Love Me
September 11, 2012
It all happened in science class. When she came in. She was the most beautiful person I've ever seen. She went by the name Tiffany. I automatically fell in love with her. She has silky white skin. And bright shiny hair that stood out from the whole class.
Tiffany took a seat by me. My cheeks felt hot and started to turn red. I turned away quickly not want her to see me blushing. We had been doing a lab that day so I immediately pushed the microscope towards her. When she spoke it was like she was an angel. " Thanks I'm Tiffany and you are." she said. " My...... Name....
.. Huh... What" I said confused trying to figure out why she was talking to me. I was shy and quirky. I didn't have that great of a body. " you're name? " she repeated herself making it clear she wasn't going to leave me without an answer. " Zachary my name is Zachary. " I murmured to her." nice to meet you Zachary can I call you Zach? " she asked. " yeah everyone calls me that." I said. "nice" just then the bell rang and it was time for lunch. " hey man I saw you look at the new girl so I went to talk to her for you. " said my best friend Mike. " thanks for nothing now she's going to think you want her" I said. " no it's not like that I'm sorry
Dude I told her to hang with you cause your cool" he said. " it's okay it's not your fault" I said. The rest of the school day was a blur the time spelling faster then I thought it would. On my way out the building I saw mike and the new girl the one I had a connection too kissing. I couldn't even think. I was full of anger. I ran home and thought about it and realized my best friend betrayed me. He took the girl I liked from me. I will never forgive him for that. Ever. That was the lowest thing anyone can ever do, and so my life became miserable I was depressed. Then I realized there will be more people to come into my life. So it's okay if she wanted my friend instead of me.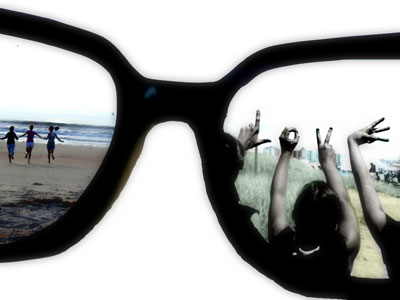 © Christina G., Bedford, NH