The Night of My Life
August 19, 2012
I walked into to the youth group room, and for some reason it was really crowded and there were a ton of people there, it was very hard to find a seat. I eventually found the only open seat there, it was on a couch with Josh, my brother, and his friend. There was also no leader there, which was very weird. So I sat down next to Josh on the couch. After some time my brother and his friend got up to leave since they thought it was boring. Shortly after they were followed by everyone but me and Josh.

Though Josh and I had the entire room to ourselves, we stayed right next to each other. A little later he turned to ask me something. To my surprise he was asking me to go to the prom with him. Very willingly, I agreed. We then decided on what color we should wear. Eventually we decided that I would wear the dress I wore to my 8th grade graduation that looks purple from some angles and teal from other angles. Surprisingly he had a tie that matched it.

I was very impatient waiting for the prom to come, it felt like if it didn't come soon, the anxiety of waiting would kill me. Finally that amazing night came.

When Josh showed up at the door I was ecstatic, I could not stop smiling. That's when I realized how handsome he looked in his tux, and anyone could tell, he was amazed at how beautiful I looked. After getting over how nice each other looked, we got in his moms car, he can't drive but I didn't mind since technically we weren't dating.

When we got to the dance, we went in and we danced many of the faster songs together, but when the slow songs came on we were both amazed at how many of these junior and senior guys wanted to dance with a freshman. I thought it was funny that every time I went to dance with one of them a Josh looked very very jealous. Eventually there was only one slow dance left. Josh decided he wanted to dance this one last dance with me. I didn't mind that at all.

About halfway through our dance, we ended up kissing. As far as I was concerned that one kiss could never be beaten. Though it was my first kiss, I could not imagine a kiss that could be better than what I experienced there, and I still can't. After we kissed, for the rest of the song I was laying on his shoulder just like when I first realized how much I liked him.

Sadly it did have to end and we left. We Walked out arm in arm, me with my head still on his shoulder. We got to where his mom would be able to see us and we just acted like normal, I think that was a little hard for both of us since now nothing would be normal between us. We were both glad when we realized his younger sister was in the front seat if the car and his little brother was in one of the back seats by the door. We ended up having to sit next to each other the entire way to his house.

Our parents had already agreed that since prom would likely end very late I could just sleep over at his house since there wasn't really anything going on between us before that night. On the way to there house, which is like 15 minutes away from the school, I fell asleep on his arm, which I kinda planned to do whether or not anything happened between us. We got back to his house and ended up talking til like 3 in the morning.

For a while it was me, Josh, and his sister, but eventually his sister got tired and went to bed. At that time Josh moved closer to me, at this point we had already changed into our pajamas and were ready to go to bed. We did eventually fall asleep while we were talking so I was asleep on his arm and his head was resting on mine. Later after we woke up he told me his mom came down later in the night since she hadn't heard Josh go into his room and found us asleep like that. And she woke up Josh on her way down so she asked what was going on and he just said we fell asleep talking and his mom just left us alone after that.

When I got home I told my mom what happened but not with the kiss and us falling asleep on each other. That night so far has been the best night of my life so far, and I will never ever let go of that night for as long as I live.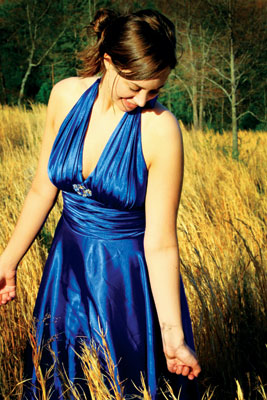 © Michelle B., Blairsville, GA