Vacation (Day 1)
August 9, 2012
Naturally, the only guy I wanted had to be taken. It just seemed to work out that way. Not only was he taken, he was completely happy in his relationship. There were no arguments, no concerns, no doubts. She was gorgeous, closer to his age, and perfect for him. I was average, three years younger, and lived miles away from him. He was head over heels and he didn't care who knew. I felt the same but I had to hide it or things would get awkward. I would have loved to have been able to hate his girlfriend. The fact that she existed had me wanting to scream each day. But he was happy, and I knew I should be happy for him. I just couldn't fake it.
And I just had two days before I would probably never see him again.
Life is just crap sometimes.
We had just met, just gotten comfortable talking to each other. That part was worth it. The first word he ever said to me was "Sorry!" If you have never had coffee spilt on you, you don't want it to happen. I don't care how many movies show it and how cliché it is, it burns. Like no other mother. Not to mention the fact that it ruins shirts and mornings. We did the entire "I owe you coffee for spilling mine all over you" thing and talked for about fifteen minutes. I was hooked and then he mentioned his girlfriend. I decided that one hot, taken guy wasn't going to ruin my trip. Later, at the hotel, I got into the elevator with a familiar face. We laughed at the coincidence and I felt like life was teasing me. "Look! Here's a perfect guy! Oh wait, he's already got a girl." Then the elevator stopped working. I had wanted to scream, not only because I was claustrophobic. I was going to be stuck in a small space with a guy I liked for hours and I couldn't be anything more than a possible friend. I was not allowed to feel butterflies when he laughed or smiled. I wasn't allowed to feel utterly comfortable leaning against his shoulder. But I did and I couldn't help that. After hours of talking the doors finally opened again and we were able to escape the ridiculously comfortable atmosphere. His girlfriend was waiting for him and they hugged each other closely. I stepped around the embrace and opened the doors that led to the stairs.
Sometimes things just didn't go my way.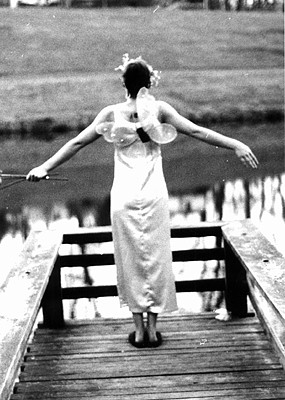 © Jessica T., Cincinatti, OH