Love in a Polaroid Camera
July 23, 2012
You know, sometimes, I just like to sit down with my box of old Polaroid pictures and remember it all. Remember that Summer, and that moment. The one where you know that from there on out life is just going to be an uproar of change. One of those where it all becomes perfect, for a little while at least.

I like to sit down, alone, in my quiet townhouse. Windows open, and a cup of some freshly brewed Chock Full O' Nuts coffee with a warm, crumbly glazed donut, and think back. Replay it instantly in my head, like I'm actually there. I can smell it, and feel the frenzy of the moment, and hear every word.

We were 16. That was when my hair was smooth, and long and black. And when my green eyes were once vibrant with electricity, and ever so trusting.

He had a short haircut, that he had just gotten cut that day, and his natural blond highlights were so prominent in his brunette hair. And his intense eyes, as blue as the ever raging sea were so beautiful.

His name was Sawyer. Sawyer Dean. And we were madly in love.

It was three in the morning. In the woods that lead to the beach.

Next to the tree we had sworn to each other under oh so long ago. We had kissed, and danced to the sweet serenade of the non-existent music under the luminous stars. We heard waves crash in the near distance, and then almost as if we planned it, ran. We ran for what felt like forever, to what was calling us in the deep dark mystery that we like to call the Ocean. And once we felt the salty chill hit out feet. We were in what felt like a scene out of a movie.

He picked me up bridal style, and spun me around. I was laughing with my head thrown back, and before I could protest he tossed me into the waves like I was a rag doll. He was in hysterics, and fell completely into the water, shrilling as the frozen mess hit his torso. Then it was my turn to laugh again. I stood up and offered him my hand. And he took it.

He caressed my face as if I was the most fragile girl in the world. So gentle, and so sweetly. And he kissed me. Like no other kiss I had experienced before. Passionate, urgent. So romantic, and so steamy in the sultry air of the night.

"I love you Ellie." He whispered quietly in my ear. I looked into his barely visible eyes, that even though it was dark out you could still see were blue. And whisper back, "I love you too Sawyer."

He grabbed my hand, and we were off again. Back to the tree where we left our bags. And when we got there he told me to close my eyes. He had a gift. So I did as I was told and shut my eyes. He handed me a Polaroid camera. And it was perfect. Photography was my outlet of expression, and he knew that, and absolutely loved when I took pictures. Right there, well, it was all of our love in a Polaroid Camera.

Camera in hand, I jumped up and hugged him tightly, I never wanted to let go, and so snapped a picture of the hug. He smiled. I snapped a picture of that too. That was what I did the rest of the night, till I was completely out of film at least. I snapped pictures of the sky of stars, and the tree that we had our names carved into, and the ocean waves crashing against the shoreline. And I captured him ever so perfectly. How we moved, and smiled, and blushed. His hair and his clothes and his eyes. Those eyes that I loved so dearly. And kisses we shared, and hugs. And when we fell asleep on the blanket we set up on the sand. A few of him so peaceful as he slept. It was all so serene. So picturesque and unrealistically real. And nothing could have been more right.

But it changed. After we went home the next day. Things didn't stay that way. The Sawyer that was there for me, that was ever so strong and oh so imperfectly perfect, wasn't anymore. His mother called me two weeks after that precious night. Sawyer's Chemo stopped working.


At first I wasn't sure how to react. He had told me that it was going to be okay. And that his Leukemia wasn't so bad anymore, and that it was being tamed. Apparently, it wasn't. He had collapsed, and was in the hospital. He wasn't gonna be there to much longer either.

So with my some of the film I had bought, and my Polaroid, I hopped on my bike and rode as fast as possible to the Hospital.

When I got there, he was coughing up blood. And I oh so badly wanted to look away. I couldn't bare seeing him like this. His mother was rubbing his back, fighting back tears, and he looked pale, and skinny. Much much paler and skinnier than when I last saw him. I didn't even grasp how fast it had happened.

I ran over to him and sat on the bed next to him and his mother and kissed his cheek as I grabbed his hand. My poor sweet baby. He finally stopped coughing up blood, and his mother decided to let us be alone for a few minutes.

We just sat there for a while. Not knowing what to say. Or how to feel. Then I felt his bony, skinny arms wrap around me, and I was ready to cry. I picked up my Polaroid and snapped a picture. And then one of us kissing, and me kissing his cheek, and him mine, and holding hands, and laughing. He sighed, and coughed. And I looked at him longingly. "I love you Sawyer." He smirked, a very smallish smile. "I love you too Ellie." And then came the tears. Silent. But there.

"Always." I said holding out my pinkie. And then came his tears. "Always." He replied wrapping his pinkie around mine so, so gently. And then here it came again. The blood coughing. I grabbed his bucket off the floor particularly quick, and got it in front of him just in time. And rubbed his back in big circles. When he was done he lied down, beginning a very slow, quiet, and heavy pant. And the heart monitor started going off all funny, and his mother and a nurse ran anxiously back into the room.

He smiled. And pulled out an envelope from underneath his pillow and handed it to me. And mouthed I love you. And I mouthed it right back.

He held his arms out weakly, but held them up the best he could, trying to signal his Mother for a hug. She ran to him, and he told her how much he loved her, and that she has to be strong, for him, cause he's going to be okay. Not to worry especially, and always make sure that she doesn't forget to water the plants that the two of them had planted in their backyard. She always would forget and it would drive him crazy that she would let them start to die. I watched him as he spoke. His eyes, looking as vibrant and ocean blue as always. He was so so pale, and there were so many bags under his eyes. He looked so breakable, and fragile as he stumbled to get the words to his mother out. I couldn't help but cry.

His mother pulled away crying, and he whispered I love you to both of us. After that his chest rose two more times, and then came to a slow, sad, reluctant, stop.

I kissed his forehead and ran out of the hospital. Ran, ran on adrenaline, caring less about my bike and leaving it there at the edge of the parking lot, and ran to the beach. And cried for hours. Finally, I decided it was time to open the envelope.

Half hopeful, half terrified I slowly peeled the envelope open and pulled out a letter, a Polaroid picture, and a 50 cent ring from a toy vending machine from the mini golf course we went to on our first date.
I picked up the note.
"My dearest Ellie,

I'm sorry. The Chemo hasn't been working for about a month now, but I could never find the heart to tell you. I promise I'll never really leave you. I'll watch over you. And know that you'll always be safe with me there. After all, didn't I tell you I'd protect you? My lovely, I took this picture that night. It was just before you woke up. And I have my own copy aside from this one that I decided to keep on the nightstand in my bedroom. It made me smile, because, well, you make me smile. Apparently you thought the camera was out of film. It wasn't. But that's a good thing, otherwise, I wouldn't have had my ever so sweet photo. Babe I love you more than life. Ha. Ironic. But I do. You are my world, you are my air, and my sky, and my sun and moon. Here's a ring. One from those machines we were looking at that day of our first date. I would have. I promise I would have, and it would've been a fairytale ending. But we'll be together again someday. If it's the last thing I do. We will. I promise my Ellie. See you someday.
I love you.






-Sawyer Andrew Dean. "

Thinking about that day gives me chills, and I still cry about it. I look at all my Polaroid photos and remember all the emotion I captured oh so perfectly. But I know he's right. We will be together someday. And we'll take pictures of everything. Cause after all, isn't that how love in a Polaroid Camera works?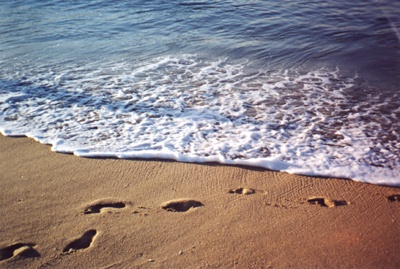 © Daniel M., Phoenix, AZ