Decieved by a Broken Heart
July 10, 2012
He ran one way, I ran the other. Opposite directions. Which is sad because I thought he was the one. The only one for me. I guess that doesn't mean much, since I've thought the last five were as well. So maybe I have the tendency to think that every guy who asks me out will someday be somebody I call my husband. Ten times out of ten, that is obviously not the case. There goes the longest relationship I've ever had. Take a guess at who's not the One. Obviously the boy running in the opposite direction. He said it was because he had to get to his next class, but honestly I think it's because he believed I was going to break down and cry. Tough luck. I'm not a public crier. I rarely do it in private. I'm too independent for that. So, with that I am headed off to my next class; Geometry. Sure, that doesn't seem too bad. Just a lot of shapes and equations, but I loathe Geometry. I loathe it with the fire of a thousand suns. But I suppose there has to be at least one of those classes in my day. Unfortunately, I tend to loathe all my classes. Most say it's because no one ever wants to be my partner. But that's not the problem. I just don't like them. I can feel everyone's faux sympathetic stares. Yes, because you are obviously going to be sympathetic from a distance. That's a slap in the face to me. So I tend not to have many friends. But, oh well. Once I go to college I'll leave all of this behind.
"Attention, class," Mr. Barns calls to the room. "I would like to introduce you to our newest student, Robert Collin." What kind of person has two first names? That's when he walks through the door. And I am amazed. His deep, brunette hair glistens from the rain that pours outside the windows. His blue eyes sparkle in the light given off by the light bulbs in the ceiling. His muscles, toned and too tan for the rainy weather in this city. The next few days pass by fast. Days seemed to become hours. That is up until the day he came knocking on my door. He left a single note telling me to meet him on Crest Hill at sunset. When I arrived some hours later, my auburn hair perfectly curled, my eyelashes a midnight black. It was nearly sunset, and I saw him. Picnic blanket laid out. A few Fantas off to the side. It was a beautiful sight. It was so pure. He smiled his beautiful smile up at me, and my heart melted.
"I didn't think you would come," he says softly, barely audible.
"Me? I wouldn't miss it for the world," I reply, quite a bit louder. I am almost self-conscious of the fact that I am much louder than him. I shyly smile, and turn the other way to hide my embarrassment. Just then his cellphone goes off. He reaches into his khakis and pulls out an IPhone, holding it in a position where I can't see the screen.
"I'm sorry, but I have to go," he says, a bit hurried. As he leaves he plants a kiss on my lips. He turns away, hesitant. Then he slowly shakes his head and continues on his path. At school a couple days later, everyone is congratulating Robert on his new girlfriend. I am overwhelmed that he is already calling me his girlfriend. Everyone shoots stares into the back of my head, as I take Robert aside.
"You want to meet up again after school," I ask, a smile on my face.
"Uh, I've kind of got a lot of stuff going on right now. I'll have to get back to you, okay?"
"Okay," I whisper. I admit, my ego is a little hurt, but I shake it off. I walk on to Geometry class. But on my way there, I witness a spectacle no one should have to see. There goes the boy I thought was my boyfriend, hand in hand with a skinny, mini, blond type.
"Robert!?" He turns my way, his face aghast.
"Valerie, I,I didn't mean to...."
"Mean to what? Break my heart into pieces? Well it's too late," I shout back. He catches my arm.
"Valerie, I want you to meet my sister Elaina." I stand face to face with his so-called sister, noting the black sunglasses and the dog leash in her hand.
"I'm..I'm..." He takes my hand.
"Val. Do you honestly think I'm that type?" He kisses my hand, a clique' gesture, but sweet. We continue our walk down the hall. We pass the stretch where just last week I stood, broken heart in my midst. Robert leans down at that moment. And where my heart is cracked, it mends.
"I love you, Val," he whispers, loud enough only for me to hear. We walk down the hallway, hand in hand in hand. Me in the middle. Holding not only my boyfriend's, but my new friend's hands. I've decided I'm not going to be lonely anymore. And with these two people on my right and left, I'm doubting I'll ever be lonely again. We run to Geometry, all headed in the same direction. Finally.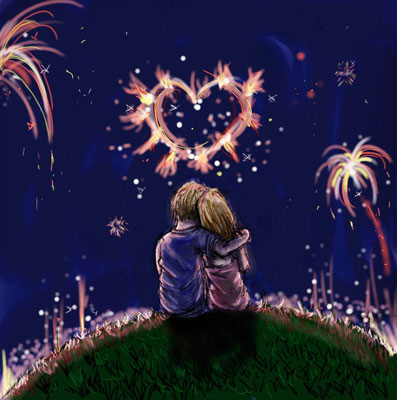 © Carissa G., Aberdeen, WA