Don't Really Care.
July 2, 2012
Don't Really Care
I told her I loved her. Did I mean it? Maybe. Did I wanna mean it? Yes. She was a sweet girl that didn't deserve me or my BS. She cared about and took care of me as if I was her child, but I was her boyfriend. Her no-job-having, cartoon-watching, world-hating, bastard of a boyfriend. And I didn't give a f*** about her.
I didn't feel bad that I didn't care, I just felt bad that I let her think I cared. I felt bad because she went to work every day to work her a** off and get money for the bills, in my apartment. I feel bad cause she introduced me to her parents when I was under the influence on the fourth of July. I feel bad because she loved such a hideous monster that wouldn't even help carry her groceries to my car, that she's been driving, because I got my license suspended for smoking marijuana on the highway right in front of the sheriff parked next to me in traffic, looking him dead in the eye and not even throwing it out the window.
I should be an actor cause if I say so myself, my "I love you" sounded quite sincere. She was a beautiful person who had fallen in love with nothing but a heartbreaking jerk.
All week I've been trying to break up with her, but then she'd look at me with those big sea blue eyes. Yep, I was falling for her and there was nothing I could do, but wade in the water for her to save me. I'm not gonna lie. I really needed her. She was closest thing to love and happiness I had ever been. So, maybe somewhere deep down inside, the b**** inside of me was allowing my heart to stop being cold and blue, and be red and warm. Hey… Did I mention she was sitting right next to me? That while these thoughts have been running through my mind like rush hour on Fridays, the child in me as been laughing his a** off watching a marathon of Tom and Jerry. She watches this with me to make me happy.
I smiled and kissed her. "What do you want to watch?" She looked at me surprised then laughed and said, "Are you sick sweetie?" She felt my forehead. "No, I'm just happy." She smiled and wrapped my arm around her.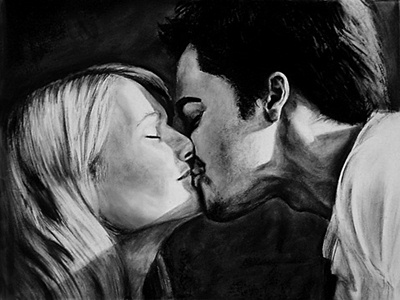 © Lauren R., Marshfield, MA