Just In Case You Were Wondering
July 5, 2012
You rap on the red door you've entered and exited many times in your life. He opens the door and has a surprised look on his face.

"Hello." you say.

"Hello." he says in return.

You then retrieve the worn piece of paper in your back pocket that lists the words that you will soon speak. you swallow, preparing to say what you have traveled miles for.

"I came back to tell you this because there have been things on my mind that I didn't tell you when I was with you. So, here goes."

"Just in case you were wondering, I left because I was scared of change. I was just so comfortable with everything the way it was, and I didn't want to accept the fact that things were different."

"Just in case you were wondering, that night when we split was probably the worst decision I've made. I only cared of myself then, and I was stupid, and naive."

"Just in case you were wondering, the only reason I never talked to you again was because i didn't want to admit I had a problem. I'm clean now. The drugs fogged up my mind. They made me do things that I regret I did in the past."

"Just in case you were wondering, I miss you. I miss my family. I miss what I had with you. It's up to you to make the decision on whether you forgive me or not. I'm sorry. For everything."

" And just in case you were wondering, yeah, I still love you."

You finish and stick the paper back into your pocket. You wipe away your tears and look into his eyes. He sighs.

"Would you like to come in?" he asks.

You smile and for the first time in five years enter through his big, red door, never to look back, but only forward.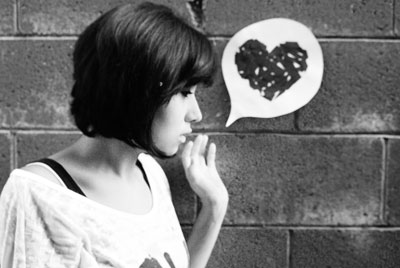 © Michelle B., West Covina, CA