Forever Changed
July 5, 2012
Tom Otto remembers the first time he saw her. He remembers thinking that she had the most beautiful smile he ever saw. He remembers what the football players were say to him as he walks to marching band practice. He remembers how she was play snare when they followed him into the band room. The football players kept screaming "Tomotto" and "Play your trombone like a good little nerd." She taking her drum stick and hitting the side of the drum, which makes a loud annoying noise which riddles through the band room. The jocks look up at her and she says, "How about you idiots go and try not to fail grade level math." Tom remembers asking her names and she says Amber.
Marching band has changed since Tom met Amber. They have truly fallen in love with each other. It is Amber's and Toms last year of high school. It is their last year of wearing blue and gold on the high school field. Tom cannot wait for college and his future as a band director. Amber on the other hand knows that it might be her last year of drumming in the fall. She is not even sure she can go another season, with outdoor and indoor. Her left arm might not handle it anymore. She does not know where her future will take her, but what she does know is it will take Tom and her on two different paths.
"Are you ready for practice?" Tom says as he walks up to Amber in the hallway.
"I am not going tonight." Amber says with a half smile.
"But we have a football game Friday."
"I know and I will be fine, it is just one practice."
"What now you are just ditching practice?"
"I have to get to class." Amber lies and then walks to her car and drives to the doctor.
Amber has been keeping many secrets from Tom. She does not even know if she loves him anymore. Today, only in a few minutes will she find out if she can keep drumming. She is sitting down in the pail white room where the doctor's office is. He comes in and sits down across from her. He forces a smile, which only means nothing good can be said.
"Amber, I am sorry but you cannot play anymore." The doctor says looking at his clipboard.
"Please, let me play this year, and then I will never play again." Amber cries.
"The only ways you will be able to play is by not play so much, by being on every medication, and have surgery after the last indoor completion." He says with a little laugh.
"Okay let's do it." Amber says as she stands up.
"Amber as your doctor I do not recommend this, you should wait a year and then see if it heals."
"I do not have a year."Amber says.
Amber makes it back to school in time for marching band practice. Mr. Edwards already knows that she cannot play every practice. He knows the risk she has put herself in, but he also knows what she is giving up at the end. If she stopped play this year there is still a great chance she will have to have that surgery and never be able to play.
The snares stand information on the field as Mr. Edwards is giving direction to the color guard. Amber says, "Snares you better know your music, because I am not playing today."
"How bad was it?" Andrew asks turns to look at her.
"I cannot play after this year."
"What are you going to do about college?"
"Reapply." Amber says as Andrew counts them off and they start marching and playing their drill.
At the end of practice, almost everyone has gone home to cram in their homework for tomorrow. Amber walks over to Tom.
"Can we talk." She says not acting like herself.
"Ya, what is wrong?" Tom asks concerned
"I think we should be only friends."
"Why are you breaking up with me?"
"There is marching band, and indoor and then all of the other things I am juggling. Then we are leaving next year." Amber says crying. "Too much is changing."
"But we are going to the same college."Tom says
"I am sorry." Amber says as she walks into the band office and Tom troughs his trombone case against the wall.
Marching band season has been going great, at least for everyone else but Tom. Percussion has been winning first every competition, the band as a whole has won first in two competitions. Now championships are on everyone's mind. Tom has seen Amber not play for a whole week expect for football games. She will not tell him why, and no one else is talking. This year is not the same for him without her. He still loves her, even if it is from a distance.
"Taking the field next is…." The announcer says over the intercom at championships. The marching band marches on to the field to Ambers beat. She seems perfectly fine. "Are the judges ready? Is the audience ready?" he says again with a little pause. "Then you make take the field in computational performance." The music starts and ends, but it still plays through the minds of the band members.


But that was marching band season, where Tom still had a chance to win her back. He remembers indoor championships, at the very end an ambulance takes Amber away. He remembers their percussion winning first, but none of the actual drummers were there to receive the award. And then the staff left instantly. They were all at the hospital waiting to see if the surgery worked. Tom just stood there, not knowing what to feel.
Today is the first day of college. Tom is standing in front of the college Amber and he got into. The campus is filled with freshmen saying goodbye to their old lives. Tom has said goodbye the day Amber told him it was over. He sees Andrew walking up with some of the other drummers.
"Andrew wait up." Tom calls
"He Tom Otto I did not think you were going here." Andrew says with half a smile.
"Have you seen Amber?"
"You don't know." He says as he looks down at the ground. "She cannot play anymore. She went to some Literary Arts College instead."
"Why did she never tell me?"
"People chance." Andrew says. "She had no choice, she gave up so much."
"But."
"She gave up her future because she could not play anymore, she did not want you to give yours." Andrew says as he forces a smile and turns to walk away. "Look where you are standing, you did not give up on your future."
"I have not given up on her either." Tom calls.
"She is forever changed." Andrew says as Toms life is forever changed because of the truth.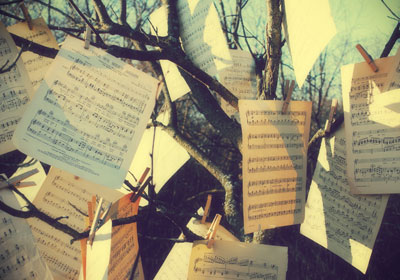 © Olivia E., Alto, MI