My protector
June 25, 2012
I can't believe it! I'm getting married with the greatest guy on earth but how did all this start? Oh, I know, it was a nice Thursday morning and I was in the Math class when suddenly this strange sound pierced through my ears, I ignored it and went on with my work. Later on that day, a group of girls got together and threw rotten tomatoes on me actually it was meant to be a joke But really annoyed me. Suddenly out of nowhere this boy appeared in front of me and asked if I needed help.
I'd never seen him but I felt I could trust him so I said "yeah, sure can you take this bag for me? It'll be great. Anyway who are you? Never seen you around here.''
All he said was ''my name is Antonio and I am your protector.' As usual I didn't believe him. ''yeah right, my protector as if I'm so important and anyway why would anyone want to protect me?'' ''Well, Its like this you are going to get a extraordinary magical power and with that power you are going to do great things but many will be against you and then you will need a protector. That's me!'' I decided not to say anymore and asked him if he could carry the bags all the way to my house. He agreed very eagerly and brought them all the way to my house but didn't show any intention of leaving. ''Are you planning to stay here tonight? Is that why you're not concerned about leaving? Won't your parents mind?'' I asked. I knew those were a lot to ask but I had to take my precautions. ''I am your protector and have a duty of taking care of you throughout the 24 hours of the day without missing a single second.'' He answered ''well, if you say so your very welcome to stay. But mind me who are your parents?'' I asked still very eager to find out who they were. His parents were also protectors and with their clients in places all around the world so unfortunately he couldn't show them to me but told me that their names were Mr. and Mrs. Clinton. I told him that my parents had died 10 years ago and that I've been living with my aunt ever since. He said he was very sorry and that he intended to stay with me as he knew my aunt was not at all nice to me. One day as I was in the living room watching the rain pitter patter down onto the ground outside from the window, my aunt came in and said that a person was coming to see her and that I was to treat him nicely as she wanted to make him a part of her business and to do so needed me to marry him. I objected and as usual I got a good beating and afterwards she said ''I'll teach you to go against me '' and she scrubbed some soup cubes on my whole body and covered me up with a towel. She thought that soup cubes made you look nice and she knew that I hated when she did that. Then she put me at the back of her black color Ferrari and drove towards the nearest clothes shop where she was going to buy something decent to where on the day the man arrives and mind she didn't do this for love. Suddenly out of no where, Antonio arrived and was beside me. ''WHERE ON EARTH WERE YOU?'' I asked in rage and he said ''right beside all the time.'' ''THEN WHY ON EARTH DIDN'T YOU SAVE ME?''I asked. He said he couldn't as everything happened so fast and I agreed it did. ''Quick, give me some clothes'' I said ''you, look nice in that already.' he replied. I insisted that he gives me some clothes so he waved his hand over my head and there I was dressed in the most beautiful tight, long, white color, short sleeved silk dress fit for a princess. Afterwards I told Antonio that we should jump out the car but he went on jabbering on how dangerous it could be, so I got hold of his hand, gave the door a push and I jumped out along with him onto a carpet of soft green grass at a curve called the round curve. He was angry but I soon made him understand that it was a risk I took to escape and that it worked! So he calmed down and as soon as a bus came by we got on it and headed for the nearest restaurant so that we could have lunch and plan what to do next. We decided that it was about time for us to find a job and get settled in this town called Roundcur, Antonio's parents had an apartment in that town and we were told to stay there. I started to write and I soon got a job there as a writer and I carried on my career very happily. Antonio went to medical school and became a doctor. We were still only around twenty and we were still young, so we went to musicals, dances, football games and also to watch films. We were the best of friends but that changed with time we fell in love but that never interfered with our work. Later on when Mr. and Mrs. Clinton came home we told them about our relationship and they said that a wedding should be arranged at once. Mr. and Mrs. Clinton were about to become my in-laws and kind of my second mum and dad. I was so happy and so that was how I came here to this room where I am seated recalling everything that happened and the special thing that I was to do hadn't come yet so I didn't need to worry.Oh here come my brides maids to take me to the chuch.Bye for now I hope we will meet again for real someday And Oh, I almost forgot to tell you if you happen to pass roundcur make sure to visit me at 1/13 rooster road,roundcur and one more thing, my name is Anastashia.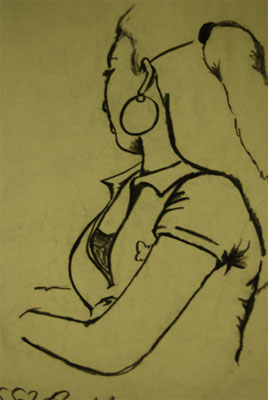 © Janessa B., Kannapolis, NC