An Unexpected Perfect Date
June 22, 2012
"Come on," Kyle said sighing loudly and pulling me along behind him "We have to get there before it closes."




"If you tell me where we are going, I'll hurry along with you and you won't have to yank my arm to get me there!" I yelled back at him.




"I can't tell you. It's a surprise."




"Fine then you'll have to drag me along behind you until we get there. Jerk ."




"That's fine with me."




"Whatever."




Kyle has been my best friend for the past three years. It is not one of those 'Oh I'm so in love with my best friend' type things. I think that girls can have guy friends and that's all they need to be. Most girls who end up dating their best guy friends lose the guy as a friend after they break up. That was part of the reason I don't want to like him. It'd be tough losing him as a person to talk to and to hang out with.




We finally arrived at the Perfect Date Game show desk. It was a new cheesy game show that although I hated the ideas, I thought the game itself was hilarious, so I watched it whenever it was on. These people honestly believed that they could pair you up with the perfect match then they'd send you on a date and video tape the whole thing.




"Um Kyle, what the heck are we doing here."

"Isn't it obvious? We're going to fill out applications and then see if we can get you that boyfriend you've been complaining that you want."

"No these things are dumb and I won't enter that building even if my life was dependent upon it."

"Please just do it. I had to pay so that they would let you enter. And you're not doing it alone. I am too."

"Fine ." What the he** I thought it's not like they'll choose me to be on the show anyways.

"Yes!"

We went into the building and they secretary handed us the applications to fill out and bring in the next day.

I went home that night and filled it out hoping that they would end up not picking me on the show and picking Kyle.

First name: Natalie

Last Name: Walker

Age: 17

Where would your perfect date be? On the shoreline with candles on the table

What type of food would you eat? Mexican?

Describe the scene? Peaceful with a small tide, in a tent on a picnic blanket

When I was done with the application I did my homework hoping to be able to fall asleep without thinking about the stupid show again.

The next morning at school I tried to ignore Kyle but when someone has been your best friend for years they know how to cure the silent treatment. He knew exactly what would work. At the end of the day we walked back to the office and handed the same secretary the applications. She looked at us with a scowl as if to say. 'Thanks for the extra work.'

We left the office and for the next few days neither one of us mentioned the game show to anyone. On February 12 I got a call from them saying that they had found a match for me and wanted the date to be on Valentine's Day.

I officially hated Valentine's Day. Every year I'd have an anti-Valentine's day party where I would eat Oreos in my room listening to rock music, which I can't stand either. When I told people this they all said that the only reason I hate Valentine's Day is because I never have anyone to celebrate with. But that is not why I hated the day I just don't like it at all.

The next morning Kyle said he had been accepted on the show. I told him I was too. Later that day we went shopping for a dress for me.

I may not like the idea but I don't want to be looking like I don't take care of myself if there really were a guy that I could end up liking.

Kyle went with me and spent four hours of his day helping me find the perfect dress. It turned out to be a hot pink dress that was tight and went just below my thighs. He picked out a pair of jet black heels to go with the dress.

On Valentine's Day I left school early. The date was at seven and I needed to be there at five thirty. They were going to drive me to the place where I would finally see who my mystery date was. That meant that I had to leave the house around four to have enough time to walk there in my heels. I straightened my hair which I don't normally do. Got dressed and grabbed a long sweater jacket that was dress upish and kept you warm without looking like an idiot.

When I got to the office the put me in a car with two camera guys and explained what I should do to get them higher ratings. If I did well they'd pay me a hundred bucks.

I climbed out of the car slowly. I felt like there were a thousand butterflies flapping their wings a mile a minute. There sitting on a blanket was the best date ever. Kyle, my best friend. Maybe I would learn to love Valentines Day after all.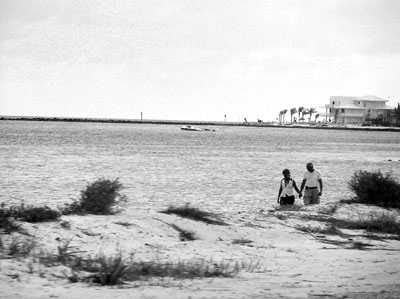 © Edgard B., Coral Springs, FL