What???
June 9, 2012
Ryan was taking me to see the hunger games movie. I was determined to tell him my true feelings for him. I slipped on my purple tank top and a pair of denim jeans. I felt my phone vibrate, I got a text from Ryan : " I'm bringing Sam sorry for the short notice" man I can't say what I feel in front of one of his guy friends!!! All well I'll spill it anyways. the door knocked. Ryan was probably here. I opened the door,
"hey" he said.
"weres Sam ?"
"at the theater , shall we go???"
"ya!"I said .
At the theater
We finally sit down . Ryan looked at the girl next to us.
"Sam meet Terra !"
My eyes widened , that's Sam. Sam isn't a guy friend Sam is a girl, oh well then .
"hi" I said
"this is my girlfriend,"Ryan said.
The movie finally started.WHAT! That was his girlfriend,but I was going to ask Ryan out, TONIGHT!!!!
"WHAT?!?" I gasped
That was the last time I saw Ryan because I dumped popcorn on his 'new' girlfriends head...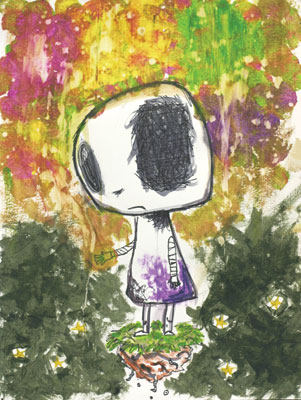 © Ashley W., Port Charlotte, FL