ALICIA OF ALBIA.
May 27, 2012
It was spring time in Albia, the flowers were blooming the birds were singing and amongst them, a beautiful maiden was sitting near her window looking out and dreaming of what it would be like outside and of what her parents were planning to do with her. This maidens name was Alicia and though she was not as rich as the other girls in her village she was very rich in her beauty as I mentioned before. People from different places who visited the village would ask her hand but the envious villagers would some how stop it or the parents would stop it. You see when I say her parents I don't mean her real parents but the parents who took care of her since her parents couldn't afford to take care of her. The parents wanted to keep her as their servant or sell her off for a good high price with which they could live on for years. One day the parents thought of sending Alicia to work in a house as a maid and earn some money for them. The house she was to be sent to was far away in a town called Tibia, the lord of that house was known as a very strict and merciless, unmarried man who hated love and didn't let his workers be involved in it either. That was why the parents sent Alicia there as they were sure she wouldn't be able to have any sort of relationship with anyone and that if she did she would be severely punished. Alicia arrived in tibia and she sat down to wait till someone came to take her to the house. She waited …..And waited but to her surprise no one came it was already midnight yet no one came. The train conductor came up to her and asked "my child you have been here for a long time. Is anyone coming to get you?'' "Yes, sir I am supposed to go to Lancelot mansion as a maid but no one seems to be coming and I don't know how to go there so I am still waiting in hope that someone would come sooner or later.'' Replied Alicia with most sweetest and polite manner. Oh, that horrid monster don't you know child he never comes out of his land and doesn't care about how his workers may come home and if they don't go on time he pounces on them like a tiger. never mind that,I'll take you there but I can come only to the gate as we are not allowed to go farther. Alicia was very grateful and just as he said the train conductor took her by carriage to the gate where she was greeted by another worker. She thanked him and went with the other worker.
When they arrived she had to wait outside the door until Mr. Lancelot came to let her in suddenly the sky began to groan and then it grew louder and louder and at last it poured down rain. "WHO ARE YOU?" Roared a loud voice breaking the calm silence around Alicia. "I ….I am the new….new maid you asked for sir." replied Alicia in fear. "Don't repeat your words young girl and besides WHY ARE YOU LATE?' asked Lancelot and Alicia told her story and apologized and she was sent to her new room and given instructions on how to stay at Lancelot mansion. Days passed and Lancelot saw that Alicia was doing well in her work and he decided that she could now trusted and sent for work that was to be done out side his land. So one day he sent her to town to buy some cloth and thread to stitch him a shirt. She brought the things and stitched a shirt for him and gave it to him to wear. As time passed by Lancelot grew fond of Alicia and the other, maids saw that he treated her better than them and they told this to Alicia's parents. The father was furious at what they heard and set off at once to take Alicia home. Lancelot was in his garden at that time and didn't know that the father had come into the house from the other side and taken away Alicia with the help of the other maids. That night Lancelot summoned Alicia as he wanted to tell her to stitch another shirt for him but when he called it was not Alicia who came but another maid. He was furious and demanded to know why Alicia didn't come to him, the maid told that she had gone home. That night Lancelot slept in anger and sadness as he missed hearing Alicia's sweet voice and her soft footsteps down the hallway and at that moment he decided to go to Albia in search for her the next day. Lancelot searched and searched and at last he found out where she lived. He went there but to his surprise no one was there, he ran out into the streets there near the river he saw Alicia's foster parents. "It's good that we're sending her away to my sister's house.She said she needed a maid and Alicia would be perfect for that job.Alicia begged me not to do this but I told her that if she befreinded that Lancelot felow,she would have to suffer." said Alicia's foster mother.Lancelot's blood was boling,he was very angry. A ship came closer to them, Lancelot watched it come and though he didn't see Alicia on it, he jumped into the water and swam towards the ship and the people quickly tried to stop him but Lancelot wasn't ready to be defeated.He faught with them with all his might.
"What is this?"asked the captain running into the deck. "Sir,tell your men to stop trying to keep away from my true love."answered Lancelot still ready for anything.
"I don't see why my men should die for stopping true love. Go to your love,my lad."said the captain. "But,But Captain."said one mate.
"No buts,my man.Let the lad go.That's an order.We don't want to gather up any sins,now do we?"asked the captain. The mates nodded. Since they were a little further off the shore,Alicia's parents knew nothing of this.
Lancelot went in search of Alicia and found her in the wine celler,crying with her head buried in her arms.
"Did you think you could run away from me that easily?"asked Lancelot
Alicia lifted her head."Sir Lancelot,I....I didn't mean to run away.It's just that I couldn't stay..." said Alicia afraid of what may happen next.
"Now you're lying.I came all the way here and you're lying to me."said Lancelot.
"I.....I ....I...."said Alicia but Lancelot cut her short
"Enough.Let me talk now."he said and as he did,he walked closer to Alicia and kneeled down beside her. Alicia couldn't understand what she saw and what was going to happen.
"Alicia.From the day you came to my castle there has been nothing but joy and I was apart of it.I liked the happiness and soon fell in love with the cause of that happiness.That's you,Alicia.I love you.Will you marry me?"He asked.
Alicia was shocked and she looked at Lancelot.
"I don't know what to say,sir"said Alicia
"Say you love me."said Lancelot
"What if I don't,sir?"asked Alicia
"If you don't I shall wait for you and leave to think about."answered Lancelot
"And what if I say Yes,sir?"asked Alicia
"Then I'll be the happiest man on earth."answered Lancelot.
"I'm sorry,sir but I.."said Alicia but she was cutshort
"Don't call me,sir.Call me Lancelot.My name is Lancelot."said Lancelot
"Okay.I'm sorry Lancelot but I can't listen to my parents."said Alicia
"Why is that?"asked Lancelot
"Because I love you."said Alicia looking away.
"What?Is that true?"asked Lancelot
Alicia nodded.
"I am the most happiest man on earth."said Lancelot holding onto Alicia's hand.
The two went to the captain and told him everything.So they held their wedding on the ship and went back to their caslte in Tibia.

I don't really know if they lived happily ever after but this story was the beginning of Alicia's fairytale story and it isn't quite finished so it's up to you to find out the rest and I think that with a little imagination anything can happen.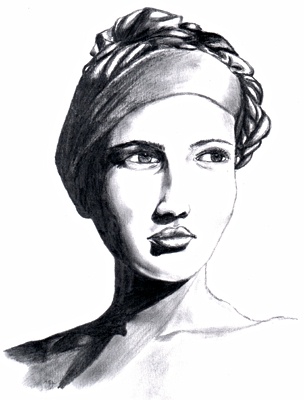 © Brynne L., Williamsburg, VA