That Wild Thing
MAG
May 19, 2012
I laughed at her.

I wasn't entirely sure why, but I did. She was funny and I liked to kick sand in her face. I also liked to push her in the hall and talk to her about how stinky her shoes were. She didn't usually talk back.

What she did was steal my hat. And then she ran away, her eyes full of something I couldn't place. It took me a moment to start chasing her. I felt paralyzed for a second and I didn't understand why. But then I chased her and I yelled nasty things. She just laughed.

The other first-graders bullied her. I don't know why. She was herself. I ­enjoyed teasing her, but I would never bully her. Sometimes I left her alone, ­especially when the kids were ruthless.

One day she was gone. She disappeared. Gone. The teacher didn't say anything about her leaving. She didn't like that girl; she was a wild thing. The day she left I went home and cried. I didn't really know why, but I did.

Years later I was in middle school and had not thought about her in a long time. I was crossing the school lawn with my backpack over my shoulder and wearing my usual get-up, a polo and jeans. It was a regular day, a regular sun-filled morning, as I strolled to school with about ten others.

At that moment, I turned and looked at the nearby pond. Across it, kneeling beside it, was her. Her hair had grown long and she wore it in two braids. She didn't look up for a while, but when she did, she spotted me.

Her eyes narrowed, as if trying to remember me, and then they widened and her mouth did too. Her eyes filled with something I still could not place.

More time passed. I went to high school and was a senior. I'd had a girlfriend for a while. She broke up with me, because she decided she didn't like me, and went out with my best friend.

I wasn't doing so well – at life, I mean. My friends had taken to drinking and other things, and I didn't find it very ­attractive. So I started going to the library, and books and ink became my friends.

This was when she came back into my mind. I really wanted to meet that wild thing again. I wanted to see that look again.

And then she was there, reaching for a book with unpainted fingernails. They were spindly little things, her fingers, with two tiny rings and one huge one. Her hair was shorter, cut to her shoulders, and her bangs made a straight line across her forehead.

I walked over to her and I said, "Do you remember me?"

She turned and went through the same motions as she had at the pond. "It's you," she said.

Then she grabbed my hat and gave me that look. I realized I loved that look and I gave up trying to place it. And then she ran away. I watched the folds of her shirt as she scurried off. I told her she shouldn't run in the library. She just laughed.

A month later, I asked her on a date. She said yes, with that look in her eyes. I took her to Red Lobster, and we pretended to enjoy the chain restaurant. Afterwards we complained that it wasn't nearly as good as it promised, and we laughed – this time, not at each other. We took a ride around a lake in my blue van, which I hated but she loved.

A year later, we snuck into a beach at midnight and had a picnic. We tiptoed across the sand and I kicked sand at her and she stole my hat and we laughed some more.

That night I told her I loved her.

She said, "I love you, too."

The trees swayed with wind, the peaceful kind, and the water of the lake appeared to be an extension of the sky. The clouds stirred and the water rippled.

She told me that she had left our ­elementary school because people hated her.

I told her, "I didn't hate you."

Her gray face brightened. "I didn't hate you either," she said. And then she got that look in her eyes and stole my hat, and she ran, and I chased and we laughed again.

Two years later, I married her on a beach. I said, "I do." And that wild thing said, with that look in her eyes, "I do." We kissed, and the guests threw sand ­instead of rice.

Sixty-five years later, she died with that look in her eyes. The look that was irreplaceable, unrepeatable, undeniable. I realized she would be my wild thing forever, and I laughed for no reason
at all.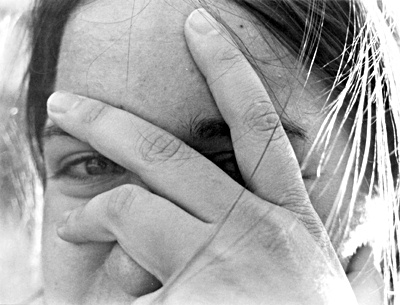 © Claire E., Bethesda, MD