Love Game
May 19, 2012
"I measured love by the extent of my jealousy." -Graham Greene

I could never tell how true it is until you begin to treat me like any other girls.
You know, back in the days, I used to be different - having inside jokes with you, teasing you but never having to anger you, telling lies without worrying that you would leave me some day, because I never thought you would. Until then, I became a person that did not differ from the girls around you. What happened next was, I fell for you. I have fallen so deep, thousands of kilometers would not even be able to measure how deep it is, not even the depth of the ocean. It was when you started changing.

Sometimes I would wonder how things would turn out differently if I never told you I was falling for you. I never stop convincing myself that it must be because of the fulfillment of your desire that has put you into such position that the passion you once had is now long gone. Just like what they always say,
The easier you get, the less you treasure.
Tell me darling, is that true?

Am I nothing to you? Am I no more?

How I wish I were raindrop. In a free-fall from the clouds, if by luck, onto your shoulder, I could be carried home silently, without you noticing that I had always been there, secretly admiring you, adoring the incredible structure from your jawline to your neck, loving you unconditionally. Your shoulder, my love, would be where I would always choose to land on if I were raindrop.

I feel as if everything is far beyond my reach day by day. A thousand yards today, a million miles tomorrow. Within this week, it might still be possible for me to fantasize about talking to the wind. I could whisper to the breeze, hoping it would carry my words from here to there, where you are now, but a year from now, you're going to be a few hundred light years away, where I can never see you nor hear from you ever again.

I wish I could stop us from drifting apart, but the force is way too strong, who am I to pull you back when you are the one who pushes me away?

Still, there is a question which you have not answered. A simple one that I have asked you since day one.

Honey, is Vermont a place full of players like you?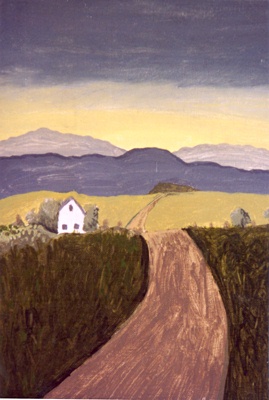 © Alisa L., Tracy, CA