Without HIm
May 18, 2012
"Can we just stay like this forever?" I whispered. We were on the roof of my grandparents, laying down and gazing up and the infinite dark sky. I was leaning on his chest, his arm was around me, holding me so warmly I never wanted to let go.
"Well, don't I wish.." he sighed before kissing my forehead.
It was the last semester of his senior year. Only a few more weeks and he'd graduate, leaving me to roam the halls aimlessly without him. The thought made me cry.
He brushed my hair out of my face and wiped my tears.
"Please don't baby... it's not like we'll never see each other."
I sniffled,"It sure seems that way."
"I would never desert you.. I'll wait until you graduate so we can go to the same college.. haven't we been over this a million times before?"
"Yes... but... I won't see you everyday... I'll miss you... all of you."
He cleared his throat, "I'll miss you too, but I won't be gone long.. I promise.. let's just enjoy the time we have." he tilted my chin up and kissed my lips so softly when he left them they tingled.
He was going to his dad's for a year. Doing what? I don't know. His dad didn't say. And he didn't bother asking, didn't want to set his dad off.
A drop of rain jerked me back to the present. I looked up at him.. it wasn't raining. He was crying. This was the first time I'd ever seen him cry. My heart ached, I leaned up and kissed him. I lingered there before whispering in his ear, "The thought of you will be enough to get me through anything the world throws my way."
He pulled me into a deep kiss, he made funny noises in his throat every time we did this. I had to pull away to giggle. He playfully hit my shoulder.
"It's not exactly an ego boost when a girl laughs in the middle of a kiss." he sighed, grinning.
"I love you." I grabbed onto him.
He pulled me closer. "I love you more."
I wish that we didn't have to move. I wish we never had to let each other go. I wished a lot of things that never came true.
A bolt of lightening crashed right into a tree no more than fifty yards from us, rain followed right after.
It made us both jump, then he began to slip. I grabbed a hold of the satellite and reached for his hand. The rain pouring down made it difficult to keep my eyes open. I heard him grunting, trying to save himself. He reached out to grab my hand, and kept slipping. He slipped so far I couldn't reach him.
"Noah!! No!! Please, don't!!" I screeched as I heard him yell out a curse.
Another bolt of lightening went down. The sound of the storm droned out whatever he was yelling to me. I cried out asking god to help us. Begging him not to take away the only life I had left. Then I heard a creaking noise, and the satellite broke lose, sending me crashing down.
My life was literally hanging by a cord. I clinged onto the satellite and looked down. I couldn't see him. I couldn't hear him. My heart dropped as I searched the ground, searched the roof. My eyes scanned the entire perimeter. They settled on a lump just beneath where I was hanging.
"Noah?!" I screamed.
No answer.
"Noah!!!!" I cried.
No answer.
I heard a snap that sent me tumbling down, I landed hard next to him. Then blacked out.
When I woke up there was a bright light shining in my eyes.. my ribs were sore. As I woke up I realized I was in the hospital. I looked around, then my mom who was watching TV saw me and jumped to my side.
"Oh my gosh, sweetheart... I told you that roof wasn't safe... you feeling okay?"

A million questions ran through my mind, but the only one that mattered was, "Where's Noah."
My mom's face darkened. She swallowed back tears and sighed. "Honey... Noah took a hard fall... he um... he died honey I'm so so sorry...."

She continued on but I didn't hear the rest. I shook my head and cried. "No.. no this can't... why?"
That was the last thing I said. To anyone. Noah was dead. For weeks I just sat in my room. People would come in and out to check on me. To bring me food. Which I barely touched. How was I going to move on without him holding me up? I couldn't. He was my rock. And he was gone. He was taken away so easily.
Things will never be the same. My heart will never beat as hard as it had for him. The world will keep spinning, but life will pass me by. Because without him I'm motionless. Without him I'm dead.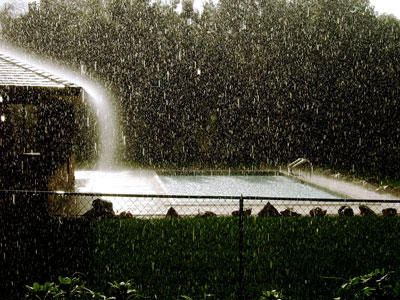 © Chelsea C., Auburndale, FL