Her Story
May 17, 2012
I'm the kind of person who is very open. With everything and everyone. Sometimes it's a little to much for people. Some people think I'm "horny" and a "slut" but really? I'm not. I've never had sex before. I'm untouched. Mint condition. well maybe not mint condition I've had my share of heartbreak and fights. And actually the way I see it, I'm screwed up. But anyway I'm a virgin. I have a mask I put on everyday and act like everything's okay. I have a smile and a laugh that for everyone seems real but if you knew my storey you would know it's fake as f***. Everyone thinks I'm a cute, hyper, funny, perverted little girl who has no clue about life and who needs someone to protect her. Actually I'm broken hearted. My parents split up. My dad dates around like there's no tomorrow and then lies to me about it. A year ago my best friend and boyfriend broke up with me. I love the guy like he was my brother. He protected me and was always there for me. And then one day he just left me there. He said: I can't be with you anymore and that he doesn't want anything to with me anymore. I didn't mind that he broke up with me. But the fact that he didn't want anything to do with me anymore hurt even more. You couldn't talk to me for weeks. I was pretty much dead to the world. I hadn't eaten anything since then, I would cry myself to sleep. When I would see him in the halls at school, tears would come up but I would quickly blink them away. After about a month, I had lost 5 pounds and I had no tears left in my body.
One day he came up to me and asked how I was doing. I can't lie to him, so I told him the truth. And he hugged me. Like a real hug that said so much. Mostly it said, I'm sorry. He looked at me and said: I never knew it would hurt you this much. I htought it would be better."
After this things slowly but surely got better between us. Now we're best friens again and I still love him. I told him that I did but he told me that he loved my best friend. Do you know what that feels like? Like a knife was just stabbed into your heart, and like it would never be okay again. I love him with all my heart and I really hope it will be okay again. But we'll see..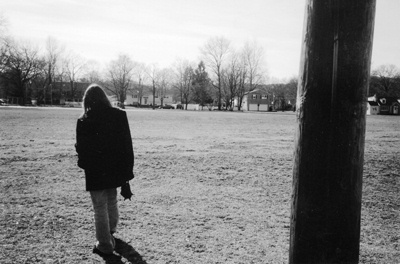 © Rosalie P., Pompton Plains, NJ