Only A Few Spoken Words
May 16, 2012
Your smile spreads as i draw near. I wonder why. You've seen me a million times. What was different? Was there something in my teeth. You kept smiling and asked for me to sit next to you. I nodded slightly, still wondering what I had done to catch a different side of you.
We sat on the grass underneath the same old pine tree. Nature filled around us. I noticed the sky had colored itself to a soft pink with streaks of orange. You were still looking at me in that way you've never looked at me before. Your hair fallen perfectly above your eyes just made you even more gorgeous. Your blue eyes sparkled as they always do. Then i caught something in them that never shined before. It stood out from the shadows of your lashes, before it slunk back in with a sudden change of idea. You leaned in as if there were a secret you needed to tell me or you might die, then before I realized that speaking wasn't it, your lips were on mine.
A kiss was your secret. I returned it with one of my own.
As you leaned back not far enough for me to see your face, but far enough for our lips to part you whispered something so soft and clear. I was filled with warmth, not understanding how you had a sudden change of thought. It shook me and rattled in my brain. Curiosity never settled well with me, but instead of asking an overdose of questions I just replied with my heart and hand.
"I love you, too."
In all understatement I could say that it was true. It always had been since the day First met you. I thought then that I would never stand a chance. You were everything; while I was slim to nothing. Everyday I wondered if I could get up the courage to somehow tell you how I felt, instead of keeping it bottled up inside. I prayed and hoped none of your relationships lasted. They never did. I laughed inside at the girls who thought they knew you better than me. There was no comparison yo be made. I was your best friend. Someone you confided in no matter what. I did the same. I confided in you. I Guess that's what made me love you even more, because I trusted you and I trusted no one.
That is how our story started. Full of change, but no bad after thoughts. Only the continuation of our love was ahead of us. It wasn't only shocking to us, but to other people around us as we showed our affection. It was like someone was getting shot. I didn't see what the big deal was. We were the tragic best friends in love.
I always thought you'd change your mind. Say the "I love you" 's were a slip of the tongue. That we had it all, but it all changed. Our love burns like a wildfire.I'm so scared it'll burn out like the real ones do. It was hard to believe, but you told me i was your everything. You didn't hide what we had behind a curtain of secrecy. You kissed me in front of everyone, held me, and said sweet things aloud. When someone asked who I was you said
"She's my other half, my all in all."
I never dreamed of a more perfect life. You were mine and it didn't matter that I was mute. You didn't need to hear me talk, you just needed me to be with you. Out of every girl, you chose the one who couldn't speak.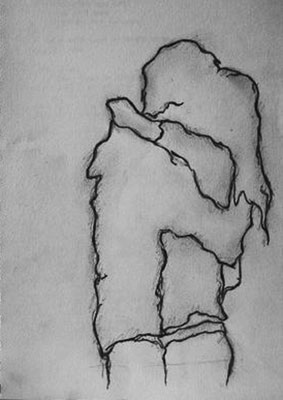 © Nicole B., Newcastle, WA