Tango into My Heart
May 13, 2012
Azmariee had no clue that Trevor would be taking Tango lessons at Delana's Latin and Zumba Classes. She hadn't seen him since the day he broke up with her. Now here he was standing before her with the audacity of smiling as If everything was peachy.
"Az," he nodded his head in acknowledgment, "It's been a while." Trevor noted.
"Why are you here"? She asked as they stepped forward and his arms slid around her waist sending those familiar exhilarating goose bumps up and down her back. Azmariee had to bite her lip to stop herself from quivering. The effects that Trevor had on her were ridiculous. One touch and she would practically pee on herself.
"Hello to you too."
"I'm sorry I'm short on manners when it comes to seeing my exes," Azmariee replied back curtly. His strong hands slid down her thigh and he lifted it up until her leg was bent.
"Oh c'mon it was four months ago," he said good-naturedly.
She scoffed as her foot was thankfully place on the ground. She walked around his tall frame trailing her hands around his chest in the way Delana taught her in the beginning of the summer.
"Oh, so there is supposed to be a certain time limit in which you get over a break up, Trevor? I didn't realize," she remarked. She quickly stepped in front of him and Trevor grabbed her waist again with a grip stronger than necessary. His lips were mere inches from touching her neck. THEy were breathing heavily from all the spinning but from mainly the endorphins being released between the small space they put between each other.
"I do love you." Trevor always thought if he said those words everything would be all better.
Azmariee stared in his brown eyes forever until she decided she wanted to walk away. Trevor in return had to stride to catch up with her and spun her around into one of the fancy dips that had Azmariee depending on Trevor for support.
"And I know you do too." His hand went under her spine and trailed its way up and down. Azmariee felt her body stiffen and her breath became ragged.
Right when she thought Trevor was going to kiss her, he straightened up and said, "I'll see you tomorrow, Az," and walked away.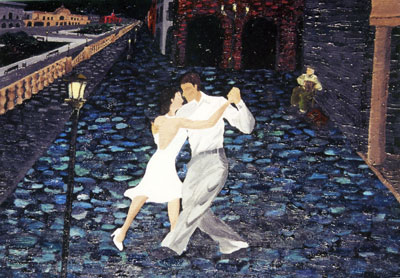 © Elizabeth M., Kannapolis, NC