Blind
April 25, 2012
"Stop it. Leave me alone." I told Richie as he grabbed me around the waist and kissed my ear loudly. I narrowed my eyes, dropped my books to the floor and turned around to face him. "You think this is funny? Dude I don't like you so get off of me. You're like gum stuck on my shoe. Nobody wants you because you're annoying. Seriously just leave me alone!"

His smile faded as he bent down to pick up my books from the floor. I heard him mumble a little sorry before looking down and walking away with his hands in his pockets. I let out a sigh and turned to look at my best friend Brittany. She shrugged and we began to walk towards our last class of the day, History.

I took my usual seat in the corner far to the side near the window. No one sat there because they knew it was my seat and my seat only. I'm not bossy or conceited but I know everyone respects me. As I waited for the teacher to walk in, I took out my phone and giggled at Jackson's corny message.


Hey I love you babe ur like my whole world
and I wanna be with u foh eva :)


I shook my head and pressed delete. Boys.

"We have a new student today kids. Everyone this is Rudy." I heard Mrs. Geneva tell the class. I didn't bother to look up so I sat back and looked out the window. Soon something kicked me and I jumped up ready to curse someone out.

"I'm sorry I didn't mean to." A cute boy rushed as if he were scared of me.
"Are you blind?" I waited for him to meet my eyes but he never did. I watched him struggle to sit in the empty seat next to mine. Under my breath I whispered. "Idiot."
"Okay. Now start working on your packets. Karina, can you explain to him what we have been doing?" Mrs. Geneva asked me.
"He can do it himself." I snapped and flipped my long brown hair back.
"Karina, hel—"
The stupid boy interrupted her. "It's fine. I can do it myself."
The teacher looked at me and glanced at him before sitting down in her desk and start checking papers.
The bell rang after a while and I bent down to retrieve my books from the floor. When I stood up, I glanced down to see Rudy sitting down still looking straight forward. With a smirk, I began to take a step.
"I'm very sorry if I got you mad. I didn't mean to."
"It's whatever. Just don't do it again, k?" I said and walked out the door, glancing back once more to see him sitting by himself.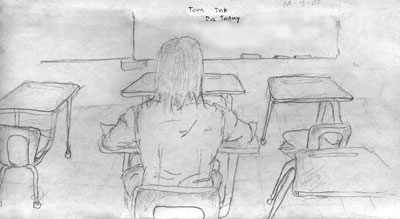 © Christopher M., Dededo, GU