Name In The Sand
April 23, 2012
I sit on the edge, between the points where the water's tongue no longer reaches and where the trees grow. I sigh digging my toes into the soft sand, feeling its coolness just beneath the surface. The sun shines into my face forcing me to squint.
He'll be here, if he isn't already it's just how he is, a shadow on the edge, hidden from plane view. I pull myself up and look around there isn't any sign of another human on this stretch of land. This beach is secluded, far away from the busy beaches with children screaming in the surf and people lounging around on the sand turning their skin lobster red.
I walk along the water's edge letting the foam lap at my bare feet. The waves roll in and out, all is peaceful, but I'm waiting. A piece of driftwood rolls in the motion of the waves. I grab it before it washes away; running my fingers over the smooth wood, it's perfect fitting nicely in my hand. Squatting down I begin to draw, fish leaping out of the water, bird flying high, sail boats bobbing on the waves, just some of the things I love. I pause thinking about him, wondering where he is, but I know he will show up at the perfect time. But if he doesn't I won't have completely wasted my time waiting.
I stand and walk closer to the waves, this time I write in big scrawling letters. The curves of the lines smooth and rounded, just in reach of the waves. I straighten and smile his name is perfect. A large wave rolls in reaching a small corner of his name, I don't turn I just watch the water wash it away. I feel his arms wrap around my waist, I inhale the smell of his shirt and I smile because I knew he would have perfect timing.
"Why'd you write it so close to the water?" his voice is low a sweet. I just shrug, "Words are temporary even names, why would I need something temporary when you can be permanent?"
The waves roll around our bare feet, all is silent except for the waves and the gulls flying about. I look up at him, he is looking at me a ghost of a smile on his lips. Not a word passes between us, but it doesn't matter because words could never describe what we are both feeling and sharing in that moment.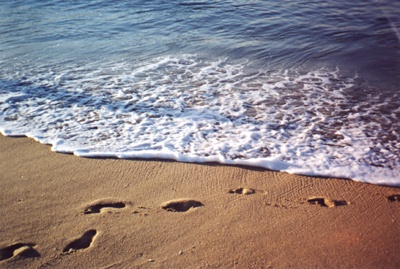 © Daniel M., Phoenix, AZ