Forbidden
April 23, 2012
Two hearts. Beating heavily in unison against one another. No other sound in the world could match the sound of forbidden love. Racing against time to save themselves from misery, yet yearning for a destined happiness, that was so far from their reach.


She looked up at him. His golden bright eyes full of mystery and passion, but with an overwhelming sadness that seemed to freeze her in time. He couldn't be hers. "I have to leave now. I can't stay. They might find you Rachel and I can't risk the thought of them ever taking you from me." He looked down at her like she was the most important thing in the world. Her heart fluttered inside her chest as she propped herself up to touch her lips to his, one last time. Shivers of panic and passion sent waves of shock coursing through her body. This was the last time she would see him. Jordan. The one person in the whole world that mattered the most to her had to leave her. The kiss left her breathless. "I love you Jordan with all my soul." Tears began to stream down her face. He wiped them gently and held her tightly. "I love you too, with everything that I am." With that, he was gone, leaving her broken inside.


He had the blood of an angel, a werewolf, a warrior, and the passion, love, and face of a man. He was an Oriel-Elek, meaning a golden angel of destiny and helper of mankind. Only a race of twenty created to protect this earth from the demons and evil that roam it. That's what he had told her, at least. She hadn't believed him until he'd shown her the wings, the shift on the night of the full moon, and the magic hidden underneath his fingertips. He was now her guardian angel and protector. They had fallen in love and that's when the darkness came for her. His love was forbidden.


She would find him. If the only way to get him back was by risking her life, she would do it. She ran out of her house and into the dark frigid winter woods, her long black hair trailing behind her.

She glanced up at the moon, shining eerily upon the darkness, bearing its luminous eyes into the cold soul of silence, giving her chills, as the clouds began to advance over the charcoal black sky, like darkness binding the light to utter incompetence at dusk. Panic began to wash over her. Crunch. She didn't have time to scream before it came out of the darkness smashing her to the ground with unbelievable force.

"Stay with me! Rachel! No!" He was losing her. The demon had hurt her badly. She gazed up at him with those bright thoughtful blue eyes, tears streaming down her face. She whispered softly to him, "I love you." With that, she let out one last breath and collapsed into his arms. He sat there gently rocking her one last time, feeling hopeless and lost.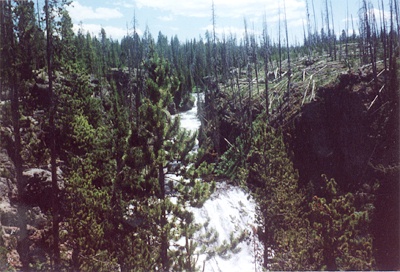 © Josh W., Peoria, AZ