A Bed of Roses
April 24, 2012
Everything was white. From the old peeling walls to the starched bed sheet, to her expressionless, blank face, everything was drained of colour, drained of spirit and drained of life. The hospital scared me. The many tubes poking into her arm scared me. Most of all, her face scared me. It was pale and lifeless, like a china doll... or a corpse. Where were those emotions which always ran across this face, or the smile that lit it up? This wasn't the Lisa I knew.
Tearing my eyes away from her, I glanced at Liam. Tears were trickling freely down his face as he gazed at Lisa. I felt tears pricking at my own eyes. I blinked them of, but one fell down my cheek. Wiping it off roughly, I felt my helplessness die down as a surge of anger took over. 'Why?' I wondered. Why her? Why was she here now, fighting a losing battle for her life, which was rightly hers for so many more years? Why was he here, watching the one person he loved suffer so much? Why was I here, isolated from the regular world, watching him cry and her die? Why had destiny taken such a cruel turn, placing us in such an unthinkable situation? The questions hung in the air. There was no answer.
Liam took her frozen hand in his shaking one. Her hand looked cold and lifeless. Liam's face was covered with streams of tears. Hers was calm, cold and devoid of any emotion. My resolve broke and I burst into tears. Then everything is a blur. All I know is I stood up and ran out of the room, out of the hospital, and did not stop running until I had collapsed on my bed back home. My tears blinded me, shielding me from the world outside. I was oblivious to everything except my thoughts.
Lisa was always the optimist. Always the same infectious smile, always an encouraging word, always a unique perspective on life... that was Lisa. We envied her, teased her, and tried to reason with her, but nothing could convince her that life wasn't a bed of roses. "It is!" she would insist, "But without the thorns." I wondered what she felt of her lifelong philosophy now. Did she feel it had failed her, or did she not have any regrets as she had lived every day to the fullest? Was she too sick to feel anything?
My phone buzzed, breaking my chain of thought. It was Liam. I felt myself shaking. Hoping for the best but fearing the worst, I held it to my ear. I could hear him sobbing. I knew what that meant but I would not let myself believe it. "She's gone," he whispered. My worst fears were confirmed. Listlessly I cut the call.
A week passed. It was a week of tears and contemplations, as each of us tried to face what had just happened. Each moment I remembered Lisa felt like an hour, yet it seemed only moments after I first heard the news of her death that the week had passed and I was standing next to Liam, backing the traffic and watching the sunset. It evoked memories in both of us, memories of Lisa on whose life the sun had set. Liam gazed wistfully at it for a long time as he took in the melting sun, the blood-red clouds, the amber sky and the gentle waves. His face was no longer twisted in grief; he had come to terms with the situation. He had pulled through the initial heartbreak and was now filled with nostalgia and memories. Lisa was gradually fading in my mind, but he remembered her vividly. He could never forget her.
Feeling the sea breeze on my face, I zipped up my jacket. Liam was oblivious to any such thing. The breeze blew his hair off his eyes and I saw how empty they seemed. Yet they were deep, contemplative, as if he was in some other world. Trying to guess his thoughts, I felt like a fish swimming in circles in those deep pools of his eyes.
At length he spoke. "I still can't believe she's gone. I wish..." His voice cracked, and he was biting his lip to control his tears. I hesitantly laid a hand on his shoulder. "She would have wanted you to move on," I reminded him. "I know," he whispered. Then he looked at me in the eye, his face clearing up suddenly. "She was conscious for a while before she..." he took a deep breath, steadied himself and continued, "She was the same as she always was, even death couldn't change that. She just said... she asked me whether I had any messages for anyone up there," I let a smile escape my lips. My first smile in a week.
The sun had set, but it had left the sky brilliant with hues of scarlet and magenta. The ocean reflected the same. Taking a single red rose from his jacket pocket, Liam reached out and placed it in the water. A last tribute to Lisa. "I'll always love you," he whispered. Touching the rose, all Lisa's memories came flooding back to me. "Rest in peace," I added.
The waves lapped up the rose. Straightening up, Liam zipped up his jacket. He took my hand in his. Glancing down at our clasped hands, I remembered Lisa's lifeless hand clasping Liam's shaking one, but I also remembered a Lisa full of life and a Liam full of animation. I glanced at him. He would be like that once again. I would see to it.
We stood there, hands clasped, as dusk faded into night. I could no longer see it, but I knew that somewhere nearby, the rose was still floating. Maybe I could not see it, but it was still there. Just like Lisa.
I realized Lisa was partly right. Life is a bed of roses, but not without the thorns.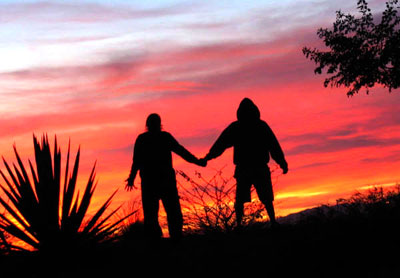 © Rosanna S., Phoenix, AZ