The Art of Love
March 27, 2012
If love and hate were a painting on your wall, they'd be in my trash can. After all, they're just emotions, and emotions are just color; love and hate are really only chalky, dull grays--and you might tell me they're important, because without gray, there can't be depth in a painting, but I wouldn't believe you. Because of this: I made a choice this morning. Do you want to hear it? Should I say it out loud?

I'm done with emotions. I'm done with color. I'm done with you.

Can you even hear me? I'm yelling, but you're not noticing. You're focusing on that canvas; the blank one, that you've say you've been working on for weeks. But all you do is stare, the colors on your pallet in whole globs, untouched, cracked, dry.

If I had to write my life out on ledger lines, it'd be brown. Everything muddled together into one long sentence, but you wouldn't be able to read it. No one would. Because my handwriting is no more than an inadequate scribble.

Your hand is moving towards the canvas now, but it holds no brush. Why can't you hear me? Why won't you look me in the eyes?

I remember when you could. Oh, I do. And your eyes–they were so beautiful. Dark and brooding, two perfect orbs under thickset brown eyebrows. You used to pick me up and twirl me around when you greeted me, so that the world blurred into a million specks of color, but your face was always solid. Then you would put me down and kiss me, and for a long time, I could get lost in the sound of our breathing, and the red inside my eyelids, bright from the sunlight. You loved my eyes. More than anything–sometimes, you would paint them on canvas. But you could never get the blue quite right. It was always slightly off–maybe mildly whiter, too dark, too green, or too silver. Simply not a blue blue. My blue, you called it. Don't you remember? On that day that we sat by the lake by my house? You and I sat there, looking into the water, and you said to me,
"It's simply not your blue, is it sweetie?"
"My blue?"
"Your blue. The blue of your eyes. That elusive, innocent shade that makes your face so shocking."

Blue, you later told me, is the color of serenity. It can lull you into a dreamy state, can make you see things from a different point of view. Blue is the color of the sky, and of the water. Blue is the color of Forget-me-nots. Blue is the color of my eyes, so why don't you gaze into them? You're suppose to. It's part of the whole romantic relationship. But are we really lovers? Just because you have "In a relationship" posted on your Facebook status, does it mean that we're "in love"? And what's love, anyway? It's certainly not you gazing at an empty picture, and me standing behind you, fading into the background, silently yelling, screaming–begging you notice me.

But now I'm getting off course.
My point is, I'm dumping you. I'm never coming back. You can find some other girl to make you happy. Maybe she'll have empty eyes and no brain, so that you won't have to worry about her feeling lonely, unloved. I'm sure you wouldn't have to worry anyways; is there any room in that pinched noggin for thought outside of your work?

I'm walking away now. Goodbye. I won't look back.

This is your last chance, kid. Your. Last. Chance.

Here I go. I'm stepping away from you. Do you hear my footsteps?

Fine. One more chance. I'm looking back, so hear me now, this is your last–

What are you doing? Your reaching into your bag...the one I made for you. I didn't know you'd kept it; and even if I did, I wouldn't recognize it; it's stained with various colors. It use to be red. The so-called color of love-- and passion.

You're holding a white tube of acrylic in your hand, you're twisting the cap, the paint is spilling onto the pallet. I can't see what color it is-- your broad shoulders are blocking the pallet from view. You still haven't noticed me though, so what's it matter?

I'm going. Goodbye. Farewell. Au revoir.

The sound of cars is growing louder. I'll take a short cut down Mont street, and take the bus back home.

The seats of the bus are hard, with foam oozing out of the cracked plastic. I've gotten too use to the comfortable seat covers in your old beat up Honda. No matter. The hardness, the smells, they're starting to bring me back: I'm starting to see reality.

You won't be there for me when I wake up tomorrow morning. I'll never taste your wonderful scrambled eggs, never see the pictures you'll paint. It's okay though. It's a good thing. You've hurt me, and now I'm healing. I was in ICU there though, for a while.

Maybe the bus window is grimy. But I can't help casting one last look at you, sitting out in your front yard, back to me. And I almost gasp, but there's nothing I can do. I saw one flash, and that was enough to make me want to go back. But I can't now; not now, because the bus has pulled away. I can't see you anymore.

But I know.

You're painting your canvas.

It's my blue.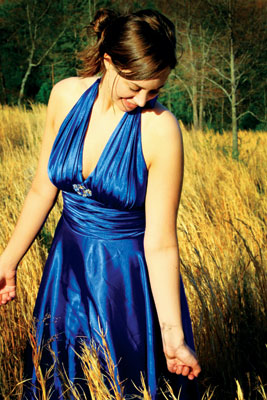 © Michelle B., Blairsville, GA