Love's Twist
March 15, 2012
There we were, Jack and I were sitting in the living room of my mansion in the middle of a snowstorm. The power had been out for a good half hour and we were waiting for Janet to come back up from the basement. I wouldn't think it took my sister that long to find the back up generator when she was using the over-sized flashlight.
It's been silence between us since she had left but there were many things I've been dying to say. There were many things I've been dying to do…
No! I can't think that way about my sisters boyfriend. We've known each other since third grade and I just thought of his as my best friend until recently. And the moment I was going to tell him I had feelings for him was when Janet had told me how great of a boyfriend he is. I felt like I was going to throw up. Why would she do that to me after I just told her I was in love with him?
It's now weeks later and I'm alone with him in a dim lit room and all these thoughts are flooding forward. What do I do? What do I say? Is he feeling this awkward vibe too? The only think I can do is close my eyes and hope I can get through this.
I hear foot steps coming towards me. Was Janet back already? I open my eyes and see Jack sitting down on the floor next to me.
"Are you cold?" he asks so calm and sweet. I haven't heard him talk to me so gracefully in months. Had it only been months? He's been agitated with things recently, maybe its only been a few weeks, but looking into his eyes like this make me feel warm and wanting to melt. Wait, was I blushing in front of him?
"A little," I replied hoping he didn't think anything of the long hesitation. Next thing I knew he was putting his jacket around my shoulders. He was so close, I noticed he smelt of Minty Axe. Then my eyes caught his. A long hesitant look until I moved a little closer. He didn't back away, in fact he also leaned closer. I could feel his lips touch mine, just barely. His hand on my cheek cresening it and pulling me into the kiss. Actually not pulling me in, leading me. I came by myself.
"What's going on?" It was Janet.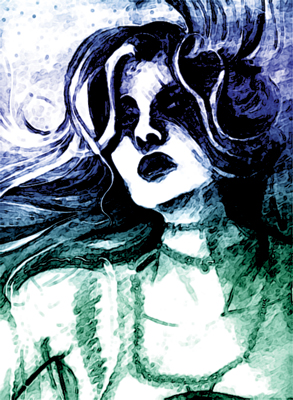 © Sindi J., Westminster, MD