Homework!
February 29, 2012
"What's your favorite activity?"
"Homework," she mumbles in a shy, almost protective voice.
Homework! Did she say homework? I nearly spit out my drink in shock. Who in the right mind lists homework as their favorite activity? Hell, who in the right mind even likes homework?
But I don't think she's lying. Her soft brown eyes are tucked away in the kind of embarrassment that seems so popular among teenage girls nowadays.
"Why," I manage to stammer out in a cautious voice. I'm trying hard to maintain an inquisitive face now, but I can feel my brain straining against my muscles to in an effort to sneer.
"I like learning new things." She's talking so quietly that I can barely make out the sound of her voice.
"Well I mean, so do I…but isn't homework just fifteen minutes of learning compared to five hundred or so of writing down irrelevant little notes and details? Are you telling me that one little part is worth all of the effort? I let out a slight laugh, a poor effort to change the deteriorating conversation. But then she glances up and makes the briefest of eye contact with me.
"I don't think the notes are irrelevant." Her voice is slightly louder now, as if she has somehow found a new source of strength deep down inside of her.
"Well obviously they're not irrelevant, but they're incredibly boring aren't they?" Now she's maintaining eye contact with me, and I can feel a slight tinge of tension in the otherwise cool wintry air.
"How can homework be boring if you're engaged the entire time you're doing it? It actually makes you use your brain!" She's starting to breathe heavily now, and her cheeks have grown as red as the nearby scarlet roses.
"Uh, well you…I mean-"I start to reply, but she's not finished.
"How is homework anymore boring than sitting on your ass all day and watching some stupid irrelevant T.V. show over and over, or playing the same stupid pointless game that has no tangible benefit for hours upon hours? At least with homework you are always facing something new and unique, and you are required to actually change up thought process! So explain to me how that is anymore boring or irrelevant than the countless ridiculous activities you all do? How? Tell me!"
Wow.
She's almost panting now, and her once soft brown eyes have since turned into a smoldering back. I was dimly aware that my mouth was hanging ajar, but I made to effort whatsoever to close it. I couldn't stop staring at her, at least not well her cheeks swelled in such a gushing fashion and her eyes penetrated with accusing anger. It had started to snow outside well she had talked, but I barely noticed it. The snow wasn't half as colorful as her cream-white skin.
Blinking slowly, I leaned back in my chair and responded with an injured smile. She still looked furious, but now it was more of an intriguing furious than an I-want-to-punch-you-in-the-mouth kind of furious. Perhaps by now she's realized that I've been playing her along.
"It would appear that you feel rather strongly about this subject," I whisper in a soft voice. Her teeth are clenched together, but now her eyes have started to light up, as if she understands what I'm trying to do.
"Yes, yes I do." The anger in her voice has all but died away, and the teenage-girl embarrassment has slowly started to take over again. I give her another long look, and then lean forward until my face is only inches from hers. Her breath is a warm mint flavor; a refreshing reprieve from cold northern air. I can't tell how my own breath smells, but the fact that she hasn't shrunk away yet speaks volumes.
"And how do you feel about this?" I give her the most miniscule of winks, then cup her cheek with my left hand and gently brush my lips against hers.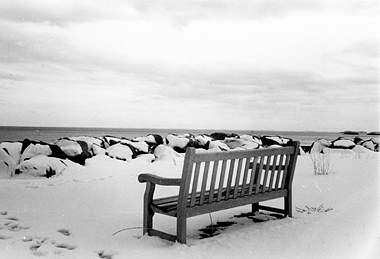 © Jen B., Marblehead, MA