Don't Forget
February 24, 2012
He wasn't my type at all. He was obnoxious. He listened to his music too loud. He was too short. His hair too long. He was a stoner. He never smiled. And that summer, he was mine. He slowly grew on me. At one time I dreaded seeing him. But as the snow began to melt, to did I. I started noticing his deep brown eyes. His sarcastic laugh. The way he looked at me when he thought I didn't notice. After we started hanging out he confessed to me that he had liked me for two whole years. I couldn't believe it. Me? Ordinary, plain, boring me? There wasn't anything special about me. I was sweet. I was quiet. I never did anything that would have grabbed his attention. He told me he loved my blue eyes. He loved my laugh. He loved each and every one of my freckles.

He was the only one who knew my insecurities. He was the only one who know my deepest fears. And I was the only one who could make him smile. We both knew it wouldn't last. We had nothing in common. He took life to gravely. He was always complaining. And I never took his problems seriously. He threatened to kill himself. And I threatened not to care. Seemed like a match made in heaven, right?

Though we decided to turn our backs on the truth. At least until the summer was over. We danced in the rain. We fell asleep in each others arms while lying in the grass. We took long walks not talking at all. One night we both snuck out in the middle of the night. We laid down in the middle of the street in our neighborhood and just stared at the stars. We even almost got run over. James brought out the rebel side of me I guess.

One time we snuck out right before the sun began to rise. We walked down the silent streets. I thought I saw a hobo hiding underneath a slide. He laughed at me. Then gave me a piggy back ride and ran away in the other direction. (just in case). He spun me around and around. He was laughing, actually laughing! We fell to the ground. He tried to get up but I wouldn't let him. His smile faded as he looked me in the eyes. We both new what the other was thinking. But we didn't want to ruin the moment. We laid there, watching the sunrise. We had to go home before our parents woke up. He walked me to my door. This was the moment. We were at my door. I knew what you were supposed to do at the door. But I couldn't kiss him. Not now. The summer was almost over. I took a step toward him. I still didn't know what I was doing. I pressed my forehead unto his. I breathed in his sent. I closed my eyes, never wanting to forget this moment.

"Good-bye" I whispered.

More than anything I wanted him to pull me back to him as I stepped away. More than anything I wanted him to kiss me like he had so many time before. More than anything I wanted to hear him whisper back to me that he loved me. But of course that didn't happen. This wasn't a fairy-tale. This wasn't a movie. It was real life. So I went inside. Back to reality. Back to ordinary. He would forget about me. I was sure about that. And we had nothing in common anyway. We weren't destined to be together. More than anything I wanted to be wrong. But of course I was right.

That was two years ago. We're still friends. I still make him laugh and he still likes my freckles. He has a new girl friend now. He told me that he thinks he's in love. He told me that she's the one. I knew he would forget about me; forget about the summer we shared. The stars we watched. The rain we danced in. The grass we laid in. I'm glad he's happy. But it still hurts. He got his happily ever after, just not with me.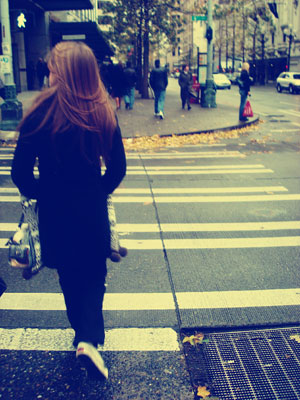 © Adria O., Edgewood, WA