Cobain
January 22, 2012
Grunge.

Write all the poems you want to about it, no other genre of music will ever affect America's history in the same way it did. It was rock music's last stand, a hold out at the end of a battle. If Kurt Cobain had not committed suicide, MTV would be playing Nirvana, Soundgarden, and Pearljam. None of that Lady Gaga garbage.

I'd only heard stories of Kurt Cobain. Blond hair, a raspy voice, and suspenders. I heard how he'd written the greatest grunge album of all time. With a single scream he made music powerful again, in a time of which it was either glam or metal.

He wasn't a god, and he hated to be treated like one. And when he pulled the trigger, ending his life, he caused legions of Post-Grunge bands to emerge. These bands were the second generation of Grunge music, and all that remains of Rock music. Foo Fighters are arguably the most notorious of these bands. Nirvana drummer, Dave Grohl, formed the band after Kurt's death. And now the Foo Fighters are on the front line of this battle of music.

Kurt inspired me more and more. I began to recognize his pain, through his music. His parents divorced when he was seven, mine when I was thirteen. This lead me to write angry, passionate music, just as it did for Kurt.

My name is Liam. I'm fifteen and akward. But that's not all! I live in a world surrounded by pop and rap music. I hate pop, hip-hop, and most rap. I'm also in love with the most popular girl in the school, Gwen, who just got a new boy friend. After everything I did for her. I told her I loved her, I changed for her, and she tells me she doesn't want to mess my life up by getting me involved in her screwed up life.

She isn't willing to get me involved with her messed up life, but she's willing to get Greg, her new boyfriend involved. Gwen means nothing to me.

So, I've decided that my band, Lamestain, is my main priority.

The fight for music is my main priority. I proved this when I snuck into the school's office, when all the staff was at an assembly, then locked the doors. Over the PA I blasted Nirvana until the cops came and got the doors open. I was suspended for a week. I asked myself, "What would Kurt Cobain think of me now?"

School year went by. My band practiced every weekend. Finally, there was a Summer "picnic" that the school set up to celebrate the graduating class. Tons of our school's rock bands were playing, so we signed up.

That day was beautiful. It took place in this field by the high school parking lot. Kids sit around on blankets, wearing flat brim hats and eating hot dogs. The school rented some portable stage for the bands to play on.

Nobody really seemed into the music, until we came on. The entire school was watching us. I was wearing a black Yankees flat brim, a red belt, grey Nirvana T-shirt, Jeans and trashed white shoes.

We start off with Nirvana's, Smells like Teen Spirit. It's full of angst, anger and rebellion. Everyone is on their feet. We continue to play our songs, which have that same anger, screaming/singing that Nirvana did. Soon, we have a full mosh pit going. Teachers are trying to break it up.

In the middle of it all, I see Gwen. Her brown hair is beautiful, brown eyes, a white t-shirt and she is holding hands with her boyfriend. She's looking right at me. I see pity in her eyes, she sees what I've become.

I realize she isn't nothing to me. I realize too what I've become. I'm a destroyed teenager, who's only way of expressing how I feel is through music. Through anger and screaming. Maybe I felt the same as Kurt Cobain did, when he pulled the trigger and ended his life.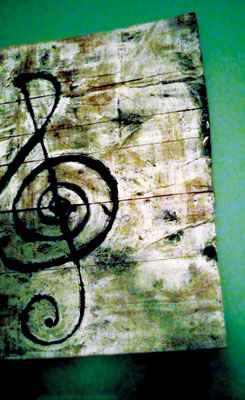 © Olivia K., Canton, OH