A Love Song For Us
February 19, 2012
You know, I let songs affect me on a personal level much more than others do. I can find a way for every song, every note, to fall into context with my life one way or another. I have an event or emotion to go with every song I know.

As you might already have realized I make all the love songs about you. The happy ones are for when we are going strong and everything is better than perfect. The happy ones make me want to start dancing and laughing and be with you. They make me want to touch you and kiss you and just feel you near me.

The sad love songs are for when we've hit a rough patch. They make me long for the good times where everything is as easy as breathing. They make me want to shut myself up in my room and think about you when you are happy just to be with me. They make me read through old conversations when we are at a good point so I can laugh and fall in love with you again.

The angry love songs are for when I'm upset with the way you're acting but won't show it. They make me want to yell and kick and punch and scream. They make me want to tell you off and force you to realize you aren't as perfect and wonderful as you think you are.

But once the song is over I feel guilty. I feel like I just want you to be happy so I don't have to listen to a sad or angry love song ever again. If you are happy, I reason, I will be happy too, and then we will both be happy together. Then I could just have you and happy love songs all the time.

But then that would be boring. I know what happens when I'm caught in a rut with the same routine happening every day over and over. I begin to feel stuck. Claustrophobia blocks my sanity and I start to go wild. These bursts of mine are sure to begin one of the times where I find myself identifying with a sad or angry love song.

I need a bit of variety. That's where the other songs come in. The ones that aren't about happy love or sad love or any love at all. The songs about just having a good time or figuring out who you really are in this crazy mixed up world we call Earth. I use these to get away from it all, so I don't damage anything when I have it exactly where I want it to be.

But have you noticed that those songs are getting fewer and farther in between? Have you noticed that only love songs are taking over the radio? Have you noticed almost none of them can be classified as happy ones? This makes it harder for me to keep occupied when we are happy, which makes it harder for me to keep the mood between us light and content.

So perhaps this is what's to blame that we've hit a rough patch that I can't seem to get out of. I hate to think it's our time, but I honestly don't think that's really the case either. There will always be something happy between us. I just wish it was stronger more of the time.

I need more happy love songs. I need more times when I want to laugh and dance and hold you close. But I can't wait for someone else to feel the way I do at the same time I do. And I don't have to. You give me plenty inspiration to write all kinds of love songs. So I'll take the task in my own hands, and write a love song, just for me, just for you, and just for us.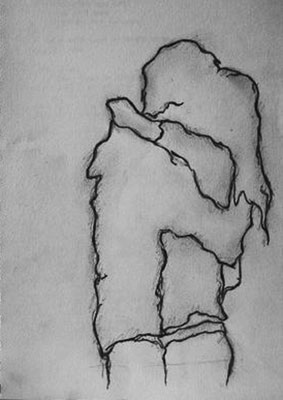 © Nicole B., Newcastle, WA