the dearest diary
January 28, 2012
9.23 - autumn has the same color as morning

she was one of those women you'd pass without much of a thought. much of a long thought, at least. she wore sweat pants every day- the same gray ones, she'd think, but they were really just the same make. she wore the same shoes, the same loose shirt. the same damn, arduous face. that kind of face that reminds her of some sort of third world country- a heart shaped, tired thing. but under that dirt and grime, there are amazing, beautiful eyes. tired eyes. human eyes.

there's something about arduous people. the same, half-mooned shape under their eyes. naked lashes, and a naked, weak face. and there's definitely something about the way her lips are always the same pink, hearth-like color. the kind you don't know what it'd look like wearing a smile.

that's what makes meetings all the worthwhile.

12.11 - cold breadth

she takes off her gloves and outstretches her hands. nail polish is cracked over her nails, her fingers thin at the knuckles like the meetings of twigs. she catches the moons in her hands and brings them to her lips.

smiles can be strange in all the right ways. the mystery behind them is still there, but it's the good kind. the kind you want more of. they make her happy. happy in the same way the little moons falling change her skin's parlor- a cherry blush- a burning that collects in the mid-apples of her cheeks, and brightens her glass eyes.

4.12 - oh, mournings.

she realizes there are strong people under the weak ones- right under the human in their eyes. there are gripping hands and strong arms that hurt when they embrace you. there are battles in the scars on their skin.

the rest of her body is moon-shaped. her thighs are made of stone. and she wants to know what she looks like when there's smiles all over her skin.

she realizes strength and weakness comes in all sorts of people.

7.29 - call it what you want

there is a clear way to breathe. the summer breadth on her neck- a warming down the length on her body. the tapping of fingers, the slight creeks of a mattress. even human eyes look beautiful closed, like shut blinds, a resting home. you can still see the life underneath them- in the paltry movement under the skin, the flutter of eyelashes. it tugs at her heart.

stop staring, she says.

i'm sorry.

10.3

11.23
1:10am

12.9

1.1 - naught.

3.23

when she sits on the couch next to her, it drifts a bit. she does not look up from her hands, where they are not naked but labelled with uncertainty and the sort of insanity that's colored red.

she takes them with strong ones- the hands she used to think were weak.

don't, she says.

4.16

5.27
1:20am
3:15am
12:29pm - black

7.30

11.22 -

moons are falling again.

12.20

it's dark. clothes peel. sitting on the edge of the dock, the splinters nestle nicely in her skin. she's cold, but it isn't what she wants to think about, and definitely isn't what she is thinking about.

the lake water kisses her skin, rises around her- past her eyes and ears. she closes her eyes, but does not open them. all she hears is the rushing of water. all she feels is the cold around her- an ice that tingles along her skin, pushes when she struggles. then there's a numbing.

that is until she feels an arm brush her skin.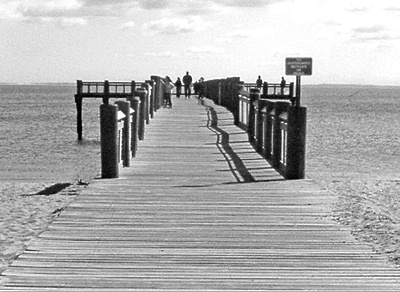 © Kevin F., Milford, CT