Once We Were Friends...
February 10, 2012
It started as a typical evening for me. Jacob walked me to my dorm as always, those gorgeous brown eyes watching me from behind the thick black hair. He was a lot less chatty on this walk, which made me nervous; the awkward conversation we were carrying was a good as silence. He seemed pre-occupied like in the 10th grade, in high school when he wrote me a song and sang it to me. Jacob didn't seem interested in the song. His eyes never left mine, he didn't stop looking or playing or singing. It was like time stopped and it was just me and him…us and serenity.
He stopped me at the bench where we first met. In 5th grade, when both of our brothers went to school at the Berklee College of Music. I was singing a song I just finished writing and he played his guitar to my voice, which didn't stop me. I felt phenomenal, I felt fearless like nothing could bring me down. Jacob sat down and pulled me to sit with him as well. He started asking me questions like, "Do you remember this place?" and "Do you know what I'm thinking?" I laughed and said, "Our friendship has been a long one?"
He shook his head and got down one knee, it was like 10th grade where time stopped; like 5th grade when I felt phenomenal. He pulled the black case from his pocket, opened it, and slowly spoke the words, "Our friendship has been long enough, and I know were skipping a few levels, but—Will you, Anna Carissa Reynolds, marry me?"
My eyes were glued to the large blue sapphire ring; I found it difficult to breathe but also a relief because he loves me, too. No matter the exact time it took for the word to come out, I managed to utter, "Yes!" Tears streamed from my eyes as he put the ring on my finger, the perfect fit and he kissed me spinning my head into an entirely new planet. As a senior in college, I became a fiancé. From 5th grade up until now felt like an eternity and I don't know if it was just me…but I totally saw fireworks.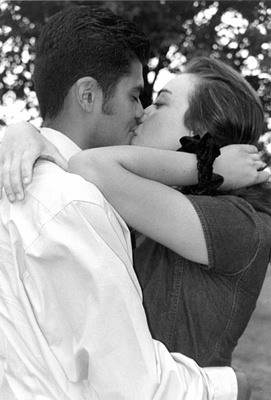 © Yaniris M., Boston, MA