Best Friends
February 1, 2012
His hands were shaking beyond control as he stared down at her naked body. He was speechless and frozen like a deer in headlights. He couldn't believe what he had done. Not being able to look at her anymore he throws a blanket over her and finds his clothes. Within minutes he's dressed, out the door, and in his car. He starts the car but then just sits there thinking about what happened. "How could I do that to her?" he thought to himself. "How can I just use an innocent girl like that but not just any girl, my best friend. What was I thinking? She wanted to, so why do I feel so guilty? I knew it wasn't right but I can't say no to her. She's been through so much already I couldn't give her anymore rejection. That still doesn't give me the right to take that special moment from her. Why am I so stupid?" He sat there for a couple minutes then turned the car off and went back into the room. She was laying there under the blanket with her head barely poking out the top of it. I lay down next to her in the bed without saying a word. We sit in the silence for a while until she turns around and faces me. She finally breaks the silence.
" Are you okay?"
"I should be the one asking you that," I said shamefully.
"I'm fantastic, what could possibly be wrong?"
"What do you mean what could be wrong? I just took your innocence. I feel as though I used you and you're just laying here smiling at me. Don't get me wrong, it was amazing and I'm happy you're happy but it shouldn't have happened not under these circumstances."
It was quiet for a while. I laid there till I couldn't take it anymore; I sat up at kissed her forehead. She kissed me on the lips but more aggressive like how this all started, so I pushed her away. She didn't say anything and just tried again. I didn't push her away this time but I didn't kiss her as much. After a little while she gave up and flopped back down on the bed.
"I'm sorry but it shouldn't have happened this way," I told her.
"I'm not sorry. I loved it, just like I love you."
For me, that drew the line, I broke down and started kissing her again. I told her I'd do anything she wished; after all it was her birthday.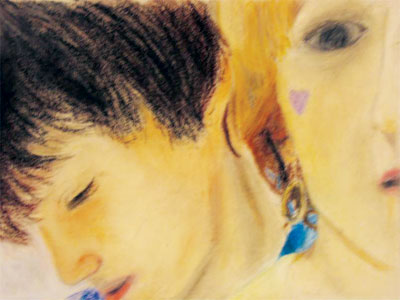 © Natalie D., Ames, IA