It's a Small World After All
December 16, 2011
We had sex ed. class together, it's really rather ironic. He sat right behind me, a burning presence I was constantly aware of. He never said a word, except for "happy birthday" on the day I came into class laden with cupcakes and balloons. It was the first time he had spoken to me. I didn't even like him back then, but the veins running up his arms and the way he cleared his throat made me want to.

I still remember the first time we met, coordinating so that it was already too dark to see each other's faces. The air was quiet with nervous anticipation, but it didn't help that no one wanted to talk first. His friend Bobby had a cold, and the only noise was his runny nose that cleared with each bite he took of kim chee. Bobby was stoned too, and entirely convinced that it was raining. The rest of us were unnaturally still, like the night air, and the moment broke when the tsunami hit, setting off the warning alarm. We were forced to disperse and I assumed it was just one of those randomly wasted nights that happen every once in a while.

I didn't ever think it would lead to this. He still reminds me sometimes, right in the middle of making love on my bed. We laugh about it, the sheer lack of believability. Then he goes still and quiet, thinking about it and reveling in the accident.

How does one go from the state of unknowing to all knowing? He thought I was perfect and a b****, I thought he was one of those kids who flaunt their sadness, by letting their hair cover their eyes and wearing black all the time. Then I learned how to talk to people and not be intimidated by everything and he cut his hair and started to wear blue. Now I know the last time he cried and he knows that I throw up when I can't handle life. I don't know when the change occurred, but sometimes it scares me a little.

"Do you love me?" he asked me, just the other night. When I answered with a repeat of his own question, he responded "yes" without hesitation. He doesn't know how much I wish I could do the same. I don't want him to love me, but I like the idea of it. Is that as wrong as I'm told? It seems I can never be satisfied, always wanting past the horizon. I call him an asshole because he's a boy, but we both know that it's me. I think it's because I don't know how to fall in love.

Oh, but I do. I fall in love all the time, with the way he shakes his head when he's embarrassed, and the soft moon curves of his nails. I'm in love when I see him walking to class from my view on the second floor and when he laughs at my silly nothings. I love him in bits and pieces, but I know I can't love him as a whole.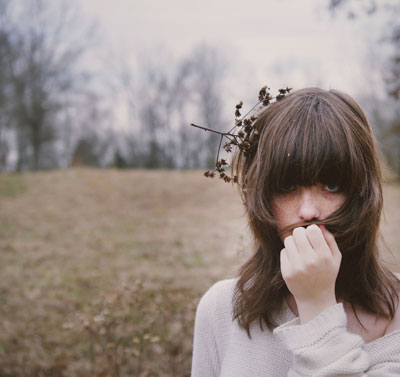 © Alex D., Russellville, AR