My Name Is 57
December 13, 2011
"So what's your real name?" He turned back around to face her. She kept her eyes focused on the floor and didn't respond. "Is it Meredith?" He jerked open the cardboard box on her desk and started reading the cards inside. "Susana, Yvette, Desire. How many names- how many lives do you have? Am I just another boyfriend? Just another accessory to make you story more believable? Did you listen to me just so people would say 'of course Janet's a good girl she's dating David.'?" She started crying more loudly, no longer trying to keep a straight face. She let the tears flow freely and watched through the watery curtain and they pooled in the cupped hands she had placed in her lap.
"Don't start that again, woman!" He marched up to her and tilted her head towards him. "Look at me!" Her eyes met his and would have made a lesser man waver but his heart burned with an unyielding flame of pain and hatred that no woman's tears would be able to quench. "I trusted you. All these years, you had me fooled. How many others have you done this to?"
"No! It's not like that!"
He stepped away from her but kept his eyes fixed on the tear-streaked face. "What is it like then? Did someone make you do it? Did they dare you?" He laughed to himself. "How much did they pay you to do it? How much does it cost to get the heartless man to care again? How much?"
"It's not like that!"
"It's not like that." He parroted. "Then what is it like? Do you ruin lives for fun? Is this some kind of perverted hobby of yours?"
"No!"
He grinned inside as he saw how panic contorted her features.
"I love you!" She pleaded.
He laughed in her face. "Sure, just like you loved the fifty guys before me."
"I mean it!" Her eyes were begging him for sympathy.
"Alright then, prove it. Tell me your real name."
Her focus moved to the wet spot that was gathering on the carpet in front of her. "I can't"
"Ha! I knew you couldn't do it. You don't care at all."
"I do!"
"Then tell me your name."
"I can't!"
"Why? Used so many that you can't rem-"
"I can't because I don't have one."
Her whisper caught him off guard but it only took a second for him to recover. "Of course you have one, you just won't say it."
"I have moved eighteen times in my life and got a new name each time. A name is just a label we put on people; it doesn't matter as long as you know who they are."
"What does your family call you? They must have-"
"My family is my job and my boss calls me 57."
"57? A number? What kind of job is that?"
"The only job I've known. They hired me when I was three. They take care of everything: housing, food, bills, they pay it all and in return I give them information. If-"
"Wait. Is this where I come in? Were you spying on me?"
"Yes."
"So that's all I this is to you, just business?"
"No!"
"Then what is it? Do you enjoy watching people suffer?"
"I never said-"
"Then what is your problem?"
"I love you! That's my problem. If my boss ever found out I had fallen for a target he would kill me!"
"Why didn't you tell me earlier?"
"You don't understand." She ran her fingers through her hair. "I was just supposed to follow you but when you ran into me the second time I had to change plans. At first I just wanted to learn more about you so I could get promoted but then… you made me feel like a real person, no one's ever done that before. I've always been a disposable chess piece, used and thrown away. You made me see that I was more than that and I loved you for it."
He walked to the other side of her room and stared out the window. "How do I know you're telling the truth?"
She pulled a pen out of her pocket and walked up to him. She twisted the end and watched as a feint light spilled out onto the carpet. "Each of us is marked on the neck when we're born so they can identify our bodies and know which numbers are safe to reuse." She pressed the pen into his hand and tilted her head letting her hair fall and exposing her pale neck. He raised the pen and let the light illuminate a glowing 57 inside a rectangle. She let her head return to its normal position and held out her hand for the pen. She grabbed his fingers when he reached down to give it to her and looked up at his face.
"Why are you telling me this?" He whispered.
"You're an idiot," she whispered back. "I've told you twice already that I love you."
He pulled his hand away from hers and moved back to the center of the room. "I thought I knew you."
"You do." She put a hand on his shoulder. "I'm the same person I've always been."
He shrugged her hand off and headed for the door. "No you're not. Janet never would've done any of that."
"Yes, I-"
"Be quiet!" He jerked a tiny box out of his pocket and held it between them. "I loved her. She made me feel for the first time in over a decade." He tossed the box on her bed. "That was for her but since she's just a figment of my imagination you might as well add it to your collection."
"Daniel!"
He stomped out of the room slamming the door behind him. She didn't even think of going after him. Her brain had already calculated that pressure would just make the situation even worse. Instead she sat on her bed and opened the box. New tears formed in her eyes when she saw what it contained. Nestled in black velvet was a beautiful diamond engagement ring.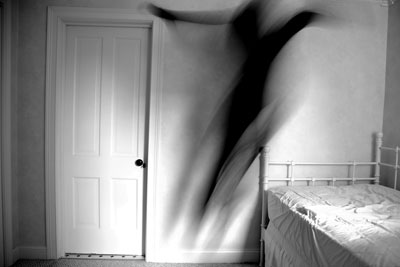 © Sarah M., Blairsville, PA