Chords of Love
January 18, 2012
A7 is a happy chord, I remember it that way because it was the first one he ever taught me. It's low-key, like summer vacation and like the first few times he gave me guitar lessons after school. He told me I was catching on fast.

C is a plain, genuine note. Allot like him, but nothing like me. Paired with C7, it reminds me of his eyes. Beautifully brown and cheerful, friendly but never flirtatious.

F is a bar chord, so it was hard for me to get. He played it like it was nothing. F reminds me of the day we had to skip a lesson and I realized with a shock that I missed him more than anything.

Am7 is like longing. Longing to know him more. Maybe even longing for him to lean over suddenly, unexpectedly, and whisper in my ear that he loved me.

Bm is a little desperate. It reminds me of all the times when our eyes locked accidentally and he look stunned, like a bird that had flown into a window. In moments like those, the world froze around me and I wondered if we were in love.

Em is sad and mysterious, it somehow reminds me of a droopey-eyed cowboy, slowly trotting along on his horse. It also makes me feel the way I did when he text-messaged me, saying that he couldn't give me lessons anymore. When I asked him why, he never texted back.

D is a higher, practical note, like a house wife with her hands on her hips. One must restrict his strumming to the last few strings in order to play D properly. It's allot like when I tried to tell myself that I had never loved him; that I had only deceived myself into thinking he was the one for me. I told myself that he wasn't going to come back into my life; that he had caught himself before falling in love.

D was right, and I play it to this day. I strum all the jumbled emotions about him into this precious guitar, letting the feelings fade into the air, never to return.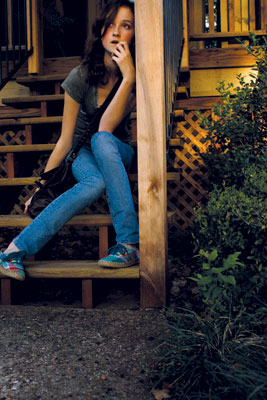 © Alissa H., Double Oak, TX