Runaway Love
January 4, 2012
I always wanted to be apart of something bigger, what better place than New York. However to me all I knew was New York was a thriving city that was a place of dreams. But I do not live there, I live in Las Vegas. Not the one known for casinos, the one in New Mexico. My whole life I wanted to live in New York and be a famous designer. However, my priorities changed when my mom and dad died in a car wreck a week before I was about to start college. When they died I was left to take care of my baby sister.

The town I live in is a peculiar place. The people here are so stuck up, you would think we live in the Hampton's. Here if you do not own anything you are not accepted . Due to this my life in Las Vegas is not the best. I am a 24 year old who works at Outback and drives a '97 Ford pickup truck. No one knows my name besides my parents' friends. My name is Violet Coal, but I go by V.C. My baby sister goes by Sammy Cee, Sammy is a little firecracker for being 7 years old. Sammy says when I get famous she is going to be head of security.

Now this story is not all about me, it is about how I feel in love. I never really was a relationship kind of girl, I never had a boyfriend in high school. I always believed that relationships were supposed to take place when your life really takes off. I am no where near my life taking off. My adventure started when Sammy and I were at the market and for some reason I started thinking about Jack. We knew each other since kindergarten, but we went our separate ways when his dad was elected senator. So Sammy and I were in the market and Sammy was not paying attention and ran right into this. The guys turned out to be Jack, we had not seen each other in so long I did not recognize him. Yet it was nice to see someone from when I had a social life and not a waitress badge.

Jack and I went out to dinner couple of times. I really liked him but I just wanted to have fun. Then I found out he wanted more than a friendship. However something was not right, I did not know who I was. Then I realized I needed to know who I was to have someone like me. I went home that night inspired by how much Jack liked me, yet how I did not feel ready. My new idea for a drawing was a different approach, a wedding dress. It was different but it worked out. This was one of my best drawings of all.

I hid the drawing under my bed so Sammy would not find it. But nothing lasts long around Sammy. Sammy was looking for her favorite socks and she looked under my bed to find the drawing. However she did not tell me, she decided to secretly send it in to the CEO of Brides Daily. However she did not inform me of that decision.

I knew something was up because Sammy was very secretive. Plus I have to beg her to check the mail but she was getting the mail, unasked. I thought I entered the Twilight Zone. One day I got a call from the CEO of Brides Daily's assistant. They loved my dress and loved it so much they wanted to meet me. They had sent a plane ticket for me. I was off to New York. I grasped my suitcase and kissed Sammy's pale forehead.

I waltzed off the plane like I had the world in my hands. I excited the airport to find a limo waiting for me. New York is so big, I told my self I wanted to become apart of this city. The meeting went phenomenal, she offered me a job internship. She informed me that I would be given a mentor and Sammy and I would be given an apartment.

We packed up two weeks after I got back. Sammy and I happily left Las Vegas for good. When we got to the apartment Sammy almost passed out, she had never seen anything more beautiful and grand. Sammy and I both had hard times starting out. Me especially I was known as the coffee girl.

One day I was drawing again just for fun. When I was drawing LeighAnn, the girl who hates me, came up and asked for her frappacino. Of course I had to get it, but when I came back the drawing was gone. I did not think much of it until the fall sketches came out and mine was in there.

I was ready to give up at that point. I wanted to pack up and leave, for good. On that day my boss visited me and told me not to give up. Long story short that day I became a designer. She gave me a task to create a dress line in time for the Spring fashion show. I worked forever on choosing fabric and even choosing the right models.

It was finally finished in time for the fashion show. They were my best designs ever. My boss over looked them and was over whelmed by my talent. It was finally fashion day, it was the start of my life. I was ecstatic to see how far I had gotten, it was remarkable to see how much things can change. Especially to see my designs in front of Vera Wang. It was time to walk down the runway after my collection. As I walked down the runway, there is no other way to describe it as love. Fashion is my way of life and my love of life.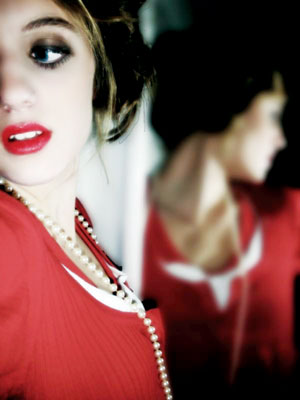 © Matt S., Taylorville, IL