Our day
December 22, 2011
I walked to the orchestra room. It was the end of the day, and I wanted to get out of the school as fast as possible. I didn't want to see him. As I enter the room, I almost turn around and walk out as quickly as I walked in, but I need to get my viola. So much for avoiding him. I look down and pretend I don't see him. I grab my instrument and walk quickly walk the door. My plan doesn't work. I hear him call my name, and I try to ignore it. "I don't want to talk to you, Corey. Just let me go home, please. I have somewhere to be." I tried not to sound too terribly mean, but he deserved it. The pain in his eyes make me want to take the words back. "You don't have to talk to me, but just let me talk to you. You don't have to say a word. Just listen. I'm sorry," he continued, walking toward me, "I'm so sorry. I never should have hurt you. I didn't realize how much I love you, and how much you mean to me. I want you back." He was brushing the tears from my face now, and it was so hard to resist him. He was hugging me now, and I was failing miserably at staying mad at him. "I love you," He whispered into my ear. "I love you more," I whispered back. I felt him smile.
"I knew you couldn't stay mad at me."
"Did you, now?" I smiled back.
He pulled away, but he didn't let go of me. "Let's get you home. You have somewhere to be, don't you?" "not anymore" I smiled up to his perfect face.
But he walked me home anyway, and he never let go of my hand. That was the best day of my life.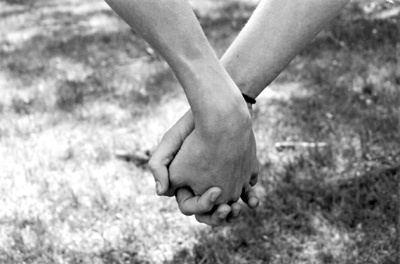 © Alexa T., Pompton Plains, NJ