He Who Dares To Dream Of Witches
December 7, 2011
He gazed upon her dark, sullen beauty, as if he were gazing upon the Queen herself. He knew that he, like every other person in this God forsaken city, was forbidden to look upon the witches with any look of lust. For this creature of beauty, the stars could never match her perfection, even though they twinkled in her eyes. The bright moons glow, was no match for the beauty that lit her face. And no one could stop him from feeling that way.
As the rays of his eyes, met hers, he remembered why he did all of this. Saving her. Caring for her. Falling in love with her. He remembered why because, the kiss that they then shared, had melted away into a sea of perfection. That's why he loves her. No matter what spell she could kill him with, he stood strong for her.
In her mind though, fear overrides everything. She was scared of who she is, what she's done, what she could do, and him. You would never expect to be afraid of someone you love but, she couldn't be more afraid. Because of what she's done in the past, make her afraid of what could happen with him. The many things she could actually do to him, without knowing. Just to wake up one morning and feel the cool breeze on her cheeks, as she looks down at his slaughtered body, makes her body feel like it's floating in a river of fire and sadness. But she still feels for him. With all of the power she contains, she wants his safety to be a priority.
Sereina closed her eyes and feared the worst when he reached to kiss her. Se cannot contain the fact she sets on fire when human skin touches her. But something changed. Instead of catching to a burning flame, she became flustered with a feeling she has never felt before.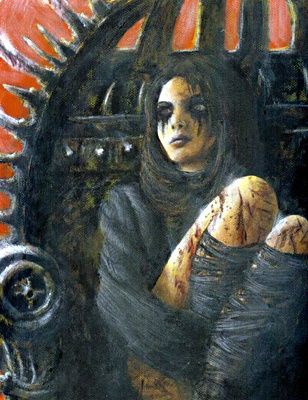 © Veronica N., Kenora, ON, Canada