A Second Glance
December 6, 2011
I looked at him, the kid who never gave me a chance. He looked at me and never realized how much of a jerk he had been. He broke up with me for another girl, who frankly knew nothing about love. Whereas I had been in and out of love more than I could count on one hand. I was his first girlfriend and he couldn't respect me enough to end it in person. One date was all I had gotten.

A movie date, the most cliché first date ever but what can I say? I like movies, especially when I don't have to pay. We had finally sat down and I kissed him a quick one at first because he wasn't sure what to do. The next time I wouldn't let him pull away. That kiss tasted like popcorn and Chap Stick, cherry I believe. I wasn't sure if it was mine or his but it was a beautiful moment, it was one of the best kisses of my life even though he was so inexperienced. I remembered standing outside the theater after the movie. He was wearing his winter coat; I was wearing a Batman hoodie that didn't zip any longer and yet he was colder. We were holding hands inside his pockets because our hands were cold; my hands had never felt warmer. We had been kissing, my body pressed up against his for warmth. It was beautiful, but I couldn't put my heart into it. I didn't say anything and we left after 10 minutes of this.

I got home and just smiled at my family, I would make sure they didn't know what was going on in my head. I was listening to my music, listening for a message, one never came along. My head told my heart to let love grow for him, that this was what was right. But my heart refused. It wasn't right, and my heart obviously knew I'd be hurt again if I did let myself love him more than a friend. I lay in bed trying to figure it all out when finally I got my answer. A text message simply explaining he couldn't love me and that his heart wasn't in the relationship, he even thought he loved me for a short time. He was being hurt and we both knew it wasn't right. I cried a bit, only because he couldn't respect me enough to d it in person.

Days later, a week actually I learned he ended it for another girl. A girl who had never experienced real love, a girl who thought she knew everything. A perfect match for the jerk who thought he knew everything. I sat fuming listening to angry music when I dropped my iPod and it shuffled because of the stupid shake shuffle thing. A not so angry song came on and I realized it was right. The words that stuck with me were "And my head told my heart let love grow. But my head told my heart, this time no. This time no."

The kid whose hand I used to hold, arms I used to be in, lips I used to kiss and his eyes. Those lovely brown eyes, never give me a second thought, a second glance. Maybe I don't even want a second chance with him. He ruined any love that could've been possible between us, and I'm glad.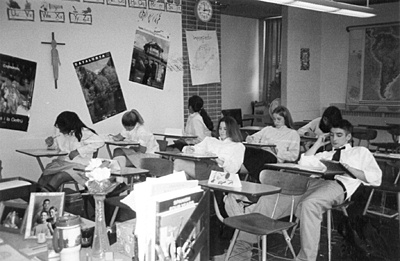 © Fox V., Whitesboro, VT