Velvet Dress
November 23, 2011
The night was as warm as any summer. A faint trilling of crickets began in the light rain that was falling, pattering down close to the house and raising up skeins of mist to come tumbling down around the one story house.

Not that anyone would notice tonight. Being this far away from civilization, the sky was naturally a thick black velvet haze, wrapped around the house in a close embrace, hugging it tight. The stars were like silver pinpricks, needlepoints, surrounding the plump silver moon hanging low in the sky. It cast its silver light onto the trees, raising dark shadows.

She stood at the door, lightly dusted by the rain, and slipped the key into the lock. It turned easily, and she noiselessly swung the door open. Her heels made no sound as she walked across the carpeted floor, feeling her way through the night. She strode down the hall, a nervous excitement rising higher in her throat with every step.

A voice called out, a voice ruined by the champagne and cigar smoke its owner had been ingesting all night. She recognized his voice, and made her way to the door. She could tell from the feel of the air that he was in here. His presence lit up the room, sparking the tension like electricity.

The blinds were down, and yet faint silver moonlit streaks continued to filter in. Even in the darkness, there were shadows. Her own fell across the threshold into the room. He raised his head to look at her, searching for her face. He was a separate part of the blackness, and he moved, setting the martini glass down next to him and standing up. They reached for each other.

His arms were like nothing else in the world. They encircled her body, hands traveling down to her waist. The two danced. It could have been a minuet, a waltz, a tango… whatever dance was executed; the movements were slinky and fluid, seemingly well-choreographed. His hands stroked her body, caressing her side… feeling the lines and folds of the velvet dress she wore. Her body was trembling, and a soft moan escaped her lips.

He placed his hands over hers and swiftly removed the white gloves covering her silk-soft skin. No words were spoken.

Out the door they swept, leaving a trail of items in their wake- a pair of scarlet stilettos, a crumpled black tuxedo jacket. The room down the hall shone with the silver moonlight, illuminating the large white bed in the corner.

Behind the shut door, his hands trailed at her hips, and her lips were full of the sweetest taste. Her long, windswept hair tumbled out onto the pillow, a river of shadow. He drew the curtains and the room went black.

Outside, the rain continued, and flashes of heat lightning lit up the sky for brief intervals and then faded away.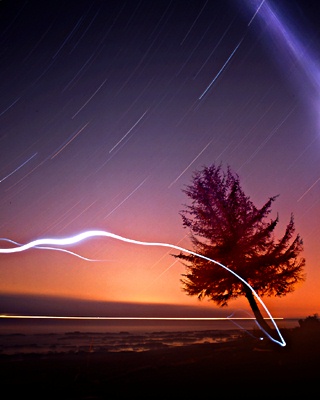 © Joey M., Spokane, WA