The Girl In The Painting
November 7, 2011
File no.136

Alexander Boyd
.Male
.December 27,1971
.Suicide


He was a fine lad.Shy,but gentle.Among the few things he showed his love to was his mother,his sister,and strawberry ice-cream.Alexander graduated one of the most renowned art schools in the country.

That`s where he met Niege.The light of his life,his femme fatale,his muse.

Niege,was beautiful..and the very opposite of her name,which means snow in French.He loved everything about her,The swishing of her two long braids,her buck-teeth smile,her kind,friendly nature.Alexander fell hopelessly in love for it all.


He liked watching her in class,peering in the mirror once in awhile,as she worked on her self-portrait.How her concentration showed in her eyes,trying to imprint every pore,every freckle,blemish,imperfection into her mind.Niege was a strong believer that her buck-teeth and freckles was what made herself beautiful.She was right.


Love was too foreign a feeling for Alexander to comprehend,and all he could do was watch for four years,as men court her,and she,turn them down.

Graduating,he became a staff in the local museum,and Niege,was a part-time waitress and artist.She did portraits for the `upper society` to small wedding gifts,bought by sweet, charming old men for their sweet,charming old wives.Alexander would sit at the coffee shop where she works,every lunch hour,when it was bustling with people that it was hard to get a glimpse of his love.And when Niege finally acquired a well-deserved gallery of her own,he passed by the window everyday.Not daring to go in.


She was happy.
He was unfulfilled,but still,happy.
Life could never be more simple.
Until one night.



2 a.m.
Drunk truck driver.
Darkness.
Enough said.
She was 29 when the angels with their trumpets and lilies came for her.

Alexander was of course,devastated.Niege Marsielle`s death brought darkness to his serene blue eyes and heart.Then,he bought a painting that was signed by her.

It seems like it`s a cold winter evening,in the city..(Paris?New York?)the street is crowded with people,all their backs turned to Alexander. But one.Niege,with light all around her,standing looking right back at him.Her expression?She looked lonely to him,as if she wanted him to join her,to talk to her.

`Niege?`
`Alexander? Is that you?`
`Oui,Niege..it is me..`
`Lovely! Why don`t you come join me? Everyone here is boring in their boring black coats and boring black hats,I`m sick of it!`
`Well..okay..`
`Lovely!! I can`t wait!`

The next day,Alexander Boyd was found dead,clutching on a certain painting.He was smiling in his eternal sleep,I remember.

He didn`t eat for two weeks.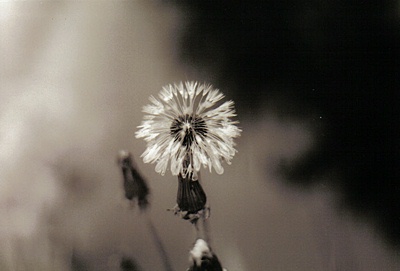 © Sarah S., Poland Spring, ME