Home Again
November 9, 2011
She strutted through the airport with an upmost confidence, her red stilettos weaving through the crowds and her long raincoat trailing behind her. It fell to a standstill when she reached the airport tramstation. The woman stood, waiting for the doors to open, with a confidence about her as she sported a sheik looking purse and sparkling necklace. She boarded the tram, and wound her brightly painted nails around the pole. The look on her face didn't match what she was feeling inside. She became scared that the person pressed close up against her could feel the beating of her heart. Realizing how silly this was, the woman pursed her lips and nervously tucked her hair behind her ear. The tram halted to a stop and she impatiently tried to push her way through the crowd of people.
***
He was shoulder to shoulder with two people whom he did not know. One held a sign with a complicated looking last name on it. Obviously a taxi driver. And the other was checking his blackberry with a yawn. The young man in the middle briefly touched his back. His fingers felt over the duct tape, and up the stems of the roses. He pricked his finger and swore quietly under his breath, but smiled all the same. His buddy had helped his tape a bouquet of roses to his back minutes after arriving at the airport. He sported a pair of dirty jeans that gave him a grungy appearance, but he was clean shaven and freshly cut; all for her. His foot tapped nervously and he squeezed the red velvet rope in front of him, rope that seemed to be keeping him from something.
***
She searched with frantic eyes for a sign that read 'Ground Parking'. She finally found it. Her red heels propelled her forward as if it had read Heaven. She stepped onto the escalator and her heart beat faster.
***
More and more people appeared before him, stepping off of the escalator. The two men beside him had gone to greet their partners with a hearty handshake and a polite smile. More reunions and meetings were happening on either side of him, forcing his eyes to search harder and harder for the only person he wanted to see. That one recognizable face.

***
The escalator seemed to move at a slower pace than usual. She grew impatient and finally she saw the top. Her head jerked in the direction of the mass of waiting people behind the red rope.
***
He finally saw her, as she took her last step off of the moving stairs. He could hardly contain himself after their eyes locked. Smiles spread across both their faces and his hand swiftly came out of his pocket to his back. He ripped the flowers from his shirt and kneeled down. Her pace quickened and she met him on the other side. Tears streamed down her face. "I love you," He smiled, almost breathlessly. She took the flowers and he got to his feet, scooping her up in a massive hug. "I love you too" She spoke in between sniffles. He spun her around and for a second she felt higher than she had ever been in any airplane, and whatever distance had once been between them had just evaporated within seconds. She was a million miles away from her house in Philedelphia but she felt more home than she'd felt in years.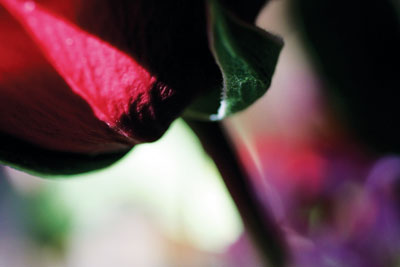 © Monica L., St. George, UT