1084 Gateway Street
November 22, 2011
I slunked upon these city sidewalks, looking up at the orange sky getting settled for the night with the Sun snuggled in the horizon...It reminded me of those summer sunsets we'd watch on his roof basking in the eternity of the moment before we realized eternity was a nonexistent concept. The air carried scents of dishwashing detergent, car exhaust and sewage but I was well accustomed to the stench by now, in fact I embraced it as a part of me. As I walked, children pranced about with bulky backpacks attached to them and that backpack, I envied; for a backpack was the only burdensome weight upon their frail, flaccid shoulders. I stopped in frozen, solid in my tracks, barely standing in front of his welcoming town house and the past slapped me in the face like the crisp, cold winter wind carrying snowflakes. It took me back, all the way back and there I saw my brain falling out of my head like Aunt Myra's milky pudding on Thanksgiving.

"Kylie," he whispered in my ear with a delicacy that gripped my heart with such intensity that it fell from my pocket and into a puddle. He held me as close as our bodies could mend, kissing me with tenderness and need, then he drew back, catching his breath. The connection between us reminded me of something I'd read in some cheesy, fantasy filled book, only it wasn't a fairytale and it was far from cheesy. My eyes danced up and down his body, his lanky, gracious but awkwardly beautiful stature, thinking how someone such as he could love me. He lifted his shirt over his feverish head and tossed it aside then grabbed me with urgency. Our lips collided, he tore off my shirt fast and I felt something hot then turn ice cold fall on my cheek...he was crying but I didn't ask why because I knew why. I could read him like an open book.

He pulled away once again, pulling off the rest of his clothes as I did the same and we just stared at each other, wondering how we got to be so blessed. Then, he fell onto the bed behind him and I placed my body over his. The heat between us felt like sitting under the sun when your heart felt frozen, cold, numb and his breath felt like heaven on my neck, I quivered. He took a moment to gaze into my eyes as if searching for a script but I pulled him to me and he flipped my enticed body under him. His hands worked so carefully all over the crevices of my body, he silently shook. I could tell he was frightened because his heart had been torn so many times. Trust was always difficult to instill in him but eventually he gave his heart to me...A mistake, I reckon. Traveling down, he kissed my neck while caressing my breasts and planting tiny, glacial kisses on my belly. He moaned, I moaned and...

"Kylie!" Gabby came running down the sidewalk, waving her arms excitedly and my memory faded like morning fog. I rolled my eyes and walked away from 1048 Gateway street with windows that gave me the chills and a door that craved my entry similar to an addict craving one more cigarette on his death bed. If I could, I'd breath him in one more time...but that opportunity no longer existed.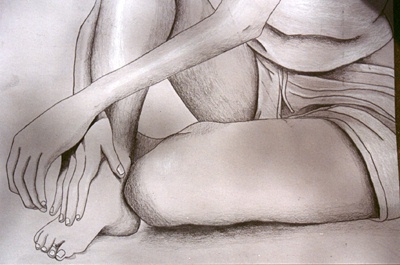 © Rebecca W., Kannapolis, MD