Story of My Life...
November 19, 2011
My name is Danni Gorden, D-A-N-N-I. I don't understand why my parents would name me that, but that is my name and that is what people call me. I discovered that there are eleven Dannys in my school, but they are all boys, not one girl. I'm a different person though, not just because of my name, but because of my life. Ten years does not seem that long to the people who lived it, but to me, I struggle through every dragging day, even at age twenty six. There's not a day in my life that I regret February 5, . That is the day that haunts me, that never leaves me mind. Since that day, I got a little better, not much, but better.

Back then at age sixteen, I was confused on a lot, but most of all, I was confused about love. Love was just on thing I misunderstood, unlike other girls in my grade.

It happened on September 24, , when I started dating Nick, Nick Jefferies. He was not one of those jocks that all the girls feel for or one of those nerds everyone picked on. He was just a everyday boy, but to me, he was my super hero, my best friend, my boyfriend...

Everyday, he would walk me home from school, holding my hand. His hands were almost two times bigger than mine and I sometimes had a hard time getting my fingers comfortable. I wouldn't tell him though because I didn't want him to worry about my being. As we walked to my house, laughing and talking, and what ever else, he would just simply hug me before he left. It was our first serious relationship and we didn't want to take things to far.

Homecoming dance, the first big dance of the year at our school, was just around the corner. Nick seemed to pretend as if he did not even hear about it when I hinted around that I wanted to go. I knew he would take me and that he was just trying to be the same old Nick I always knew. You see, he was one of those kids that could never be serious no matter what, but I like that about him, it always seemed to make my days more interesting.

As we walked home one day after school, he popped the question of the dance,"So this Homecoming dance thing, Do you wanna go with me?"

I laughed at how lost he was when he asked and I did not hesitate to say yes. Days pasted and we continued to do the routine of him walking my home. Still just a simple hug kept me in the groove of this more than perfect relationship.

It finally was the day before Homecoming and many people still did not have dates. My best friend for example, Alicia Wilkins just told every one she did not want to go but it was obvious that nobody just wanted to take her. So, I walked up to her and considerately said, "Hey, Alicia, If you have nobody to go with , you can..."

Before I even finished she stormed off, clearly madder then a hornet. That was Alicia's problem, she took stuff to serious. I mean her looks may have something to do with it, but not much. I was not trying to say she can be a third wheel, I just wanted her to be happy because I new she wanted to go. She was my best friend but she did annoy me with junk like that all the time. In a way, I kinda felt bad for her. Bless her little heart.

Thankfully, the hectic day at school ended and Nick walked me home. It was my favorite part of the day because I only saw him before first period and I just love to look at his face. His deep blue eyes sparkled when the sun hit them and his smile, oh his smile, was just incredible. He was adorable, I must admit.
Nick called me that night telling me how pumped he was for the dance. I myself may of been more happier, but I let him take the lead on it. He talked loud and fast saying, "Tomorrow, you will be the prettiest girl out there, you will be the center attention." I told him I most definitely will not be but he kept arguing and I told him just to drop the subject.

That's on thing about me, I hate getting attention. It may be my worst con about me. I hate to be called pretty or told I look nice, it really erks me. He knew I hated it, but all he ever said was, "I only speak the truth," or "I cannot help myself." Of course, I just got more mad, but It made me feel warm inside.

Eventually, I woke up to February 5 , the day of the Homecoming dance. The best day to be of my life so far. I dressed, did my hair, and used some make-up to touch upon my blemishes. I caught the bus at seven o'clock and I felt as if everyone was starring at me. I threw myself in my seat on looked out the window.

We arrived at school and I saw my man standing at my locker as usual, but today he looked a little anticipated. I ran up, hugged him, and opened my locker. I got my Spanish and Geometry book out and shut my locker. We headed down the hall to drop my books off. Mr. Garmen said his good mornings to me and a few other students doing the same as me. I walked out, grabbed Nick's hand and he took me to his locker. He didn't usually need his books for his first few classes so that saved us time to be alone.

He took me to our spot, in the stairwell. I know what you thinking, Teenagers plus stairwell equals no good. Nick and me we not like any other teenage couple though. Remember before how I said we did not want to rush our relationship, well I'm not lying. All we did was adore each other, look each others in the eyes, and talk. Finally the bell mocked me and rung. I hated walking away from him, I felt like a lost puppy.

Time ticked on and on and on. Every five minutes I would look at the clock, still bored out of my mind. Of course, looking at the clock didn't help much either, I think it just made it slower. Finally as time crept through the day, it was eighth period. I thought, that this would be the longest forty-five minutes ever. As i looked at the clock, it was two. Next time I looked at the clock, It was two o three. Those three minutes felt like a whole hour to me. As Mr.Gabel crept through his curriculum, I didn't know how to feel. I was not sure if I wanted to be wide awake, or tired. By the time we finished our notes, it was two forty and we got time to talk to our friends and moved around. I ran over to Alicia to apologize for the past day. When I went over though, she gave the nastiest look and I pretended to go see Adam Wills, Nicks best friend. It really bothered me that she was so mad, I was just trying to be nice when I asked her. The bell officially rang and I booked it to my locker.

Surprisingly, me teacher gave me less homework then usual, actually I don't even think I had homework at all. Anyways, Nick walked me home holding my hand. Gosh I thought, tonight will be our first dance under the spot lights. I grew more and more impatient every time I thought about it. I could tell he was thinking about that night too because he dazed off and did not talk as much as usual. Finally we arrived at my house and we hugged, but this time, something changed. As my arms were wrapped around his neck, I looked him in the eyes, and he surly said, "I love you." I smiled but did not say anything. He understood I think because of the whole confused on love thing. I just simply walked in my house and watched him walk away, watching him as far as I could.

I sat on my bed and laid back. I started to giggle like a little girl and thought about what he told me. I love you... Love, I thought, he can't love me, we're in high school. So, being the nerd I was, I pulled out the dictionary.

Love-a profoundly tender, passionate affection for another person.

By the definition, did he love me, yes. By definition, did I love him, Yes, and that was just thing I would tell him tonight, "Nick Jefferies, I love you."

That night, I was to pick up Nick, because he parents worked and he didn't get his permit yet. I wore my dress that I got a week earlier. It was a puffy, short, marine blue. I loved it, ever since I was in middle school, I dreamed of wearing this to a homecoming dance. I always looked at it on the Internet.

All I thought about was telling Nick that I love him. Most of, I couldn't wait to see him in a tie. My mama did my hair in perfect, beautiful curls. I zoned out the whole time she curled it thinking about our night, planning everything our perfectly. I really, actually love him.

We pulled up to his house, and I walked to the front door. Surprisingly, I saw his mom answer the door. She had tears in her eyes. At first, I figured she was sick but this was not a wining sick, this was a actually sobby cry. She told me to go get my mother and we went in. She invited us to sit on the couch with her and her hundreds of tissues. "H-h-hes gone. Gone. Nick. Gone." She sobbed even more as she said it. "He was hit. Hit right by a car who was going way to-to-to fast. Gone. He's gone." At this point I couldn't help but scream and cry. I cried, harder then I ever had in my life. I didn't go any where that night, I stayed with Nick's mother and hugged her. We couldn't contain ourselves and cried so much, so, so much. Then suddenly, I remembered, I was going to tell him I love him. I didn't tell him, I couldn't tell him either. At this time, I did what I thought was impossible, cry harder. The last words he ever told anyone was, "I love you," to me. Gosh, I felt as if he had already been gone forever. This could not be real...

But it is, He was gone, taken from this world to a better one. I sometimes ask God, "Why would you take him, what did I ever do to deserve this?" I think of this story every time I come to the cemetery. I don't cry anymore because I'm immune to it. I finally reached the spot were he is buried and kissed his stone and as the first day I visited him her, I whispered, "I love you Nick Jefferies, with all of my heart, and to this day, I will never find another..."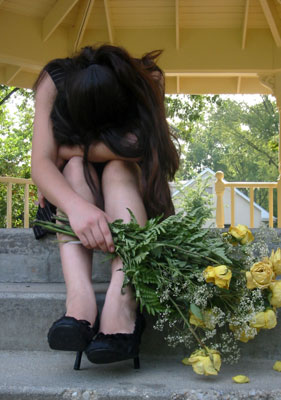 © Martha V., Morton Grove, IL