Eyes as Circles
November 8, 2011
Image is all she sees Dreams of perfect are like Ivory soap in her eyes. He even called her cute. And she believed him. She believed every word that rolled off his sweet tongue. Now she doesn't anymore.


The mirror is cold. Her fingers are colder. Her palm presses against the hard surface, and the same stick thin finger, pale skin presses back.


Eyes as circles. White, blue like an ocean, and then black; eyes that were her mother's. Eyes that he looked into so deeply. Ugly eyes.


She wonders where perfect is. Of all the things on Earth, there has got to be it somewhere. In her eyes, she sees imperfection. That's all she sees.


The light on her beside table emits a yellow glow throughout the room. Her perfect bed, her white comforter, her shoes all lined up in a straight array in her closet. Pictures of him and her, framed, sitting on her perfect dresser. And then there is a full-length mirror: her worst enemy; her only judge.


After he left her, that's when she started looking back at herself, eyes as circles. ?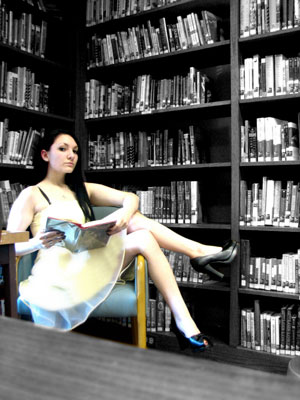 © Jessica F., Bradford, MA