Into the light. Together.
November 15, 2011
As I sit here draped in black and covered with fear, I dawn on your picture. There you are, the person I am so longing to be with. Then it all comes back to mind.
I stand there, watching, observing you oh-so carefully as if the moment were porcelain.Your smile so rare and your eyes so perfect.You gently nudge my shoulder, and im back to reality.
You hug me tight,kiss my cheek,look in my eyes and slightly hesitate, then in a soft voice I hear you say ''I love you..I don't want to let go!'' I smile.''Ill pick you up in the morning around 7:45,that alright?'' I kiss your forehead and reply ''Thats fine with me.'' I hug you one last time and watch you drive away into the darkness of the night.
I walk to my room and fall asleep. Just to be awakened my the sound of faint sirens. I grab my coat and follow all the commotion. I push my way through the crowd and fall to my knees in tears. The men in uniforms pull me away from you and walk me back home. I lay in bed until your funeral.
I drift away from the flashback and walk towards you. I blow you a kiss and walk away. I dont stop for anyone. Friends grab my arm but I pull myself away. Keeping my eyes glued to the floor as I walk outside and into the night. I stop when I come to the sidewalk and gaze at the headlights sprinting past me. I take one more step...and I see your smile. I take your hand and together we walk into the light. Hand in hand.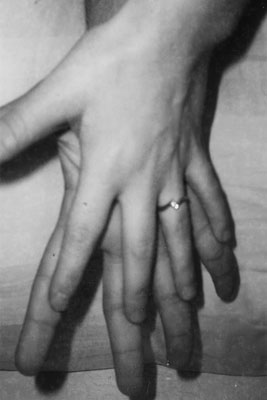 © Heather H., Phoenix, AZ