Innocent Love of a Gentleman
November 3, 2011
He was watching her slowly; attentively. Any flow of her movement of the hand; through the hair, showed exactly who she was and what she valued in life. The posture of her body showing her chest behind her head; an indication of low self-esteem and the hope of being noticed. The way she intertwines her fingers as she partakes in conversation.

A quick glance however shot across the room toward him. An unexpected turn of events. With a lowered head, he pretended to look elsewhere to avoid the suspicion. D*mn… She looked at me… She looked at me… As his core seemed to swell with heat, he tensely swayed toward one side and shifted himself away from her gaze. So, he preoccupied himself with something- writing was his calling- to sway her attention someplace else.

After he checked during painstakingly long intervals, he again began to avert his eyes in her direction. She was perfect; collected, smart, self-motivated; but unfortunately for all the wrong reasons. Her sandy blonde hair fell beneath her chin, her lips subtlety curled, and her eyes; a sea of emerald that he lost himself in. What more could bring him any closer? As he lowered his head again, full of thoughts that ran through his head, a voice echoed throughout his ears.

"Hey," a soft voice called out. He could not help but turn himself around with much conviction that he hit his elbow on the desk behind him.

"Ow!" he yelped. "My funny bone… S***…" he cursed underneath his breath.

"Can you come here for a minute?" she said, a slight smile on pierced around her lips.

"Yeah sure. One sec." He placed his pencil down on his notebook and with a small brisk in his walk, he approached her.

"Hey what's up?" he asked as cool and collected he tried to portray himself to be, his breath tightening up around his chest and neck. He crouched down at her desk so he could look up at her.

"We're looking for another group member to help us out in the extra credit project. We were thinking about doing the Japanese tea ceremony. You wanna help?" she asked him. So sweetly you ask of me… How can I not say no?

"Yeah, sure I can. I was actually thinking of doing it as well because I kinda need the grade, y'know?" he replied nervously. So, with that in mind, he smiled and nodded politely and resorted back to his seat. With a deep breath, he had hoped he had made the first step in producing a new relationship that he desired.

"You like her don't you?" inquired a classmate with a sarcastic smile on his face.

"Shut the f*** up, *******," he retorted. But yes. Why in the h*ll is that so obvious?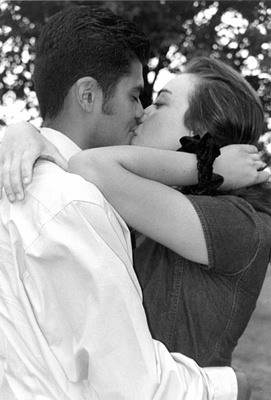 © Yaniris M., Boston, MA