Angel
November 3, 2011
Dyed red hair.
Thick black brows.
Piercing brown eyes.

Those eyes.
Those eyes that stabbed through anyone they meet with hate and anger.




Me?
I was an idiot from the other side of the planet.


-------
It would be a lie if I said that I`ve never heard of drugs,joyrides,wild parties and all those crazy things American teenagers seem to be doing all the time in those films.
I thought I was prepared.I embraced Hollywood.I knew Lady Gaga`s real name,why there is a day to remember Martin Luther King Jr.,and that I should lose my stupid,in other words `uncool` accent.
A.S.A.P.

But the hours I spent browsing the site`Seventeen`,`Wikipedia`,`Billboard` etc. didn`t prepare me for you.
It didn`t prepare me for you,Graydon Phillips.

--------
The first time I saw you was at English I think(?),sitting there,legs sprawled,textbook closed,staring at the board one seat in front of me.

Your hair,was distracting.I almost hated it,but I loved it instead.It whispered the words freedom to me,it yelled swear words at my strict Buddhist upbringing. Beautiful beautiful red hair.

After class,I was thrilled to say hi to you.I can`t say that I`d call myself good-looking,I can`t say that I am the most confident person in the world,but being the `new girl` in a new place,it gives you a special kind of courage.It gives you the strength to `act` confident,and soon enough,you would actually `feel` confident. Momentarily.


`Hi.` I smile.
You look surprised,overwhelmed for a second.Then your eyes harden,the innocent look of astonishment gone,and those eyes pierce through me.
`What do you want?`you said,sounding bored yet cautious.
I manage to half smile and say,
`I..I justwantedtotellyouthatyourhairlooksbeautiful!` Then I ran out of class.

I told you I`m an idiot.

That night,as I was in bed thinking about all the sudden changes in my life,you came to mind.The innocence in your eyes,how they became so cold in a matter of milli-seconds..the air that surrounded you.I`ve never felt that way before,you had this mysterious scent,so sad,so dark,so beautiful.

-------------
Linnie,a girl I never noticed until she pulled me away this morning.

`Hey listen,girl.I know America is all new and fresh to you..but you just don`t go up and compliment guys like Graydon Phillips okay? You just don`t.`

I hear this from two more girls by the time the last bell rang.

--------
But that made me even more curious about you,and thank God we have English today.

The seat in front of me was empty.
But something was there to replace the emptiness was a blue Post-it stuck to my desk.

fire red.
drug store.

I smile,fold it in to a tiny square and put it in my pocket.

Graydon?
Guess what?

I will be the person who hugs you to melt the ice in your eyes.
I will be your angel.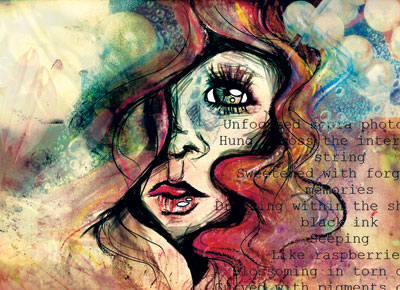 © Victor K., Las Vegas, NV