My Heart
October 27, 2011
My heart flutters. There he is, a dream. His gorgeous hair, and beautiful blue eyes. There he is trying to tell her he loves her, trying to be hers, but she doesn't care. Boys surround her, and all they want is action. My stomach twist into a knot. "What does she have that no one else has?" As I ask myself the question, i answer it. Money, looks, and absolutely no brains. How could it be, why does she get everyone. I slam my locker and start for first period. His eyes meet mine. I can't breath, I can't speak. I can only stare back, and hope he doesn't notice what I feel. Just as I think I'm in heaven, I get tripped. Right in front of everyone. They laugh, they point. I know what they are thinking, I hear what they say, but i pretend it doesn't kill me. Still on the floor, I begin to collect my things. I reach for my English paper, but before i can grab it a large, tan hand comes down to swoop it up. I look up to see him, on his knees, picking up my papers. He looks at them skeptically, than hands them back with a smile. His smile melts my heart. He extends his hand, and my shaky hand makes its way to his. I feel like it's been a life time, i can hardly breath.
"thanks" I manage to say.
"No problem."
i want him to go on to hear his voice, to see his face longer, but I know it wont happen, so i slowly walk away. I feel their eyes, her eyes melt into my back. I hear her yell at him for what he has done, and the others laugh. I feel humiliated, and I think I might cry. Just as I realize my life is over, I feel a tap on my back. I turn to see him there, his eyes staring at the dirty floor. I know she sent him here to say something dumb, or funny to make everyone else laugh, but he surprises me.
"Can I walk you to class." My mouth drops, her mouth drops, the world seems to stop.
"Me?" All he does is nod his head.
"Um....yeah I'd like that."
His reply shocks me.
"Me too." He grabs my books from my hands, and laces his fingers into mine. I look back, and see her shocked face, she just lost him. I just got him, and i have a feeling it wont be the last time he walks me to class.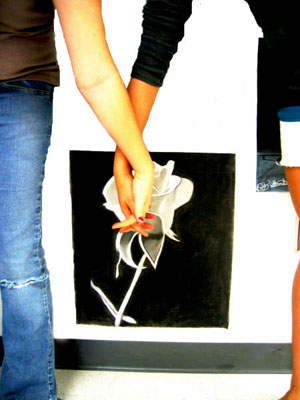 © Josie G., Wilmot, SD