Good-bye
October 14, 2011
"We could elope," you tell me. You think what you're saying is true. But it's not. It's a lie and I almost fall for it. Hoping that the warmth you're offering is something more than a creul illusion. They're the same words you once whispered when we were little. Right before you pushed me in a puddle. You ruined my Sunday dress and I got in trouble when I got home. I remember and for a moment I wonder if you do too. I open my mouth to ask, but the way you look at me makes me stop.
"Yeah," I say. The lie lays on my tongue, festering. You take me in your arms and I press my ear against your chest. I hear your heart thrumming beneath your clothes, you smell of earth and cocoa.
I stay there for a long time, we don't speak. For a moment I let myself get lost. Imagine what I'd do if things were different. What you'd do if I'd kiss you. Let you fix me from the inside out. Let you love me to my hearts content. Love you in the open without the pain of closed doors
The temptation is almost too much. I can almost see us leaving together. My black skin over your white. Going to a place where people wouldn't care about color. Where we could go and never look back. But I know deep down inside that you belong here. That even if you leave you'll always be looking back.
And I wish I could be selfish enough to say that I wouldn't care. But I would. Everytime you would get that faraway look in your eyes a little piece inside of me would chip away, break apart. Dissapear.
I push away. Any longer and I might lose my mind. Decide that I could live with only part of you with me.
"I have to go, we can talk more about it tomorrow," I say, another lie it joins the other and together they turn my heart to mush. I already miss your scent. I wonder if there will ever be a day that I will forget it.
"Okay, you need time to think about it," you say. You look so sad and degected. I turn around before I lose my nerve. You walk behind me. Too close, I can feel the heat pulsing off your body. I turn unable to resist one last look at you, memorizing your features, your clothes, your smell. You take that moment to kiss me. Your lips are dry and soft the kiss sweet and slow. It is at that moment that the words slip out of my mouth whispered againt your lips. "I love you." I feel you smile. I step back flustered. Head towards the door feeling the cold metal in my palm. I turn to face you one last time, and force a smile.
"Good-bye"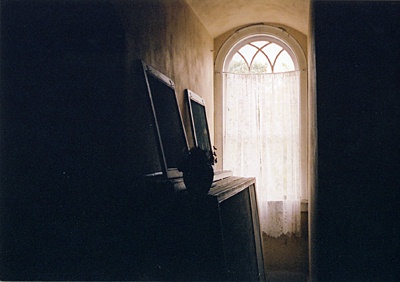 © Kandi B., Vacherie, LA