A Different Kind Of Love
October 11, 2011
"Please answer my question." Tyler said. He was getting beyond my patience level. He asked me if I could go bowling with him and a couple friends Saturday night. Any normal girl would have said something, but I'm not normal.
"I'll think about it." I grumbled through clenched teeth.
I pressed down harder on my pencil, making it break for the millionth time. I slammed my pencil flat on the table, and cursed silently to myself.
"Are you alright?" Tyler asked sympathetically. I was acting like a jerk over some stupid invitation to go bowling.
"Fine." I whispered, then sucked in a large breath, not letting it escape me.
"That's good."
I exhaled and turned towards Tyler,"I mean fine, I'll go."
He took my breath away. Literally, he'd take it away unintentionally. Tyler's brown, shiny hair, blue eyes, and perfect smile always caught me off guard.
"Cool." Tyler said, flashing me his most dazzling smile.
"Let me go sharpen my pencil, again." I muttered, getting out of my seat.
"I'll do it." Tyler snatched my pencil from my hands and pushed my gently.
"Now I have to get you back, how many times?"
"I don't know what you're talking about." he smiled at me.
"Sure you don't." I stuck my tongue out at him.
"That's not lady-like." Tyler snickered as he brought me my pencil.
"Do I look lady-like right now?" I asked, gesturing to all of me.
"Nope." Tyler laughed at me, so I joined in with him, making a symphony of laughs.


*****
Rebbecca is the strangest girl I've ever met. I can't understand her, maybe it's Because she's different than other girls I've dated. She has beautiful long, brown hair, like chocolate. She also has deep green eyes as deep as the sea, a smile that can make one cry and an awkward yet funny personality.
My parents invited her over for dinner today, that's why she's at my house. She's also my next door neighbor, which I like.
"Becca, can't we watch t.v. or something?" I asked. Becca and I have an essay due in two days, and she wants me to do it with her.
"Afterwards, OK?" She said, throwing me that simple smile, the one I can't resist.
"Why do you do that?" I asked questioningly.
"Do what?"
"You know," I prodded.
"Apparently I don't so you have to tell me." Becca pointed out.
" Smile like that, to get what you want?"
"I don't know, 'cause it's easy. Now common we're almost done."
Becca and I finished up our essays, with a lot of concentration, due to my laziness.
"Now we can watch t.v.. Common, you gotta give me a piggyback ride up to your room." Becca said, lifting her arms up.
"Which is upstairs." I whined.
"Well alrighty then weak boy. Is that what you are? Huh, weak boy?" Becca teased me.
"Nobody calls me weak. If I drop you-"
"I'll kill you." Becca interrupted me, while jumping onto my back.
"That works too." I laughed.
I ran upstairs to my bedroom and dropped Becca on my bed.
"It smells like sweat in here. Did you know you could buy this useful item called Febreze? You should get some." Becca held her nose jokingly.
"And there's thing thing called being a man." I said, turning on the television and flipping through channels.
"Who's a man?" Becca laughed.
"Ohh, you did not just ask that." I laughed, throwing the remote on the bed."
"What are you doing?!" Becca said, squirming around, when I flung her on my shoulder.
I ignored her question, I ran downstairs and stepped outside into my backyard.
"NO, NO, NO, NO!!" Becca wiggled even more when she took a hint. She banged her fists on the small of my back, trying to get down, but it was too late. I had already thrown her into my in-ground pool.
I jumped in with her while she was swimming up to the surface.
"You did not just throw me in the pool!!" Becca laughed and punched my shoulder.
"Kinda looks like it." I smiled.
"Ugh!!" she grunted, splashing me in the face.


****
I was about to get out of the pool, when Tyler caught my wrist and reeled me into him.
"You can't go, you just got in." Tyler said sadly.
"Because you threw me in." I laughed.
"I know." Tyler smiled his gorgeous smile.
He reeled me in closer to him. We were so close together, I could hear him breathing silently. Inhale, exhale, inhale, exhale. I matched my breathing with his, making it perfect.
"That's not lady-like." Tyler sighed.
"Whats not?" I asked.
"I dunno."
"Well I'm not a very lady-like girl." I answered, my usual answer.
Tyler smiled whole-heatedly, "I know." then he leaned into me, lips meeting mine. I kissed him back happily, greedily, but passionately.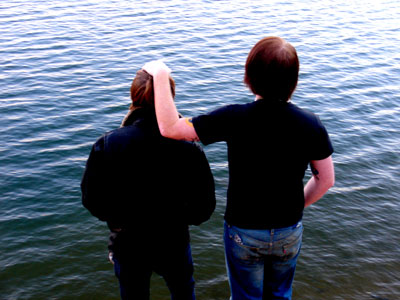 © Michelle B., Blairsville, GA